I've been really happy with my 1TB eSATA 2BIG drive from LaCie, so when I noticed they have a 2TB version I couldn't resist buying it too. I'll be using it to do all of our primary backups.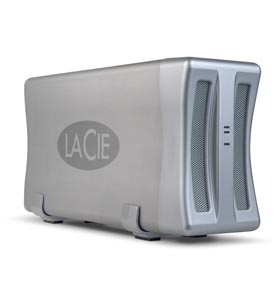 We use a 3 layer system for our digital assets (photo's, music, video..).
Our originals are on a 1TB 2BIG eSATA drive. These are networked to several other machines in case we're working on one of them.
I make automatic backups to a backup drive. As of today that's a 2TB 2BIG eSATA drive. I also backup our music to this drive.
Once every month or so I make a backup of the backup and bring that to my office. This is to prevent loss due to theft or fire, the most likely causes of image loss.
The only thing that bugs me is that under Windows XP the access to these drives on a networked computer is really slow. I can make it a bit faster by assigning a drive letter on the networked machine but it's still slow. On the main desktop though these disks are lightning fast!