Sorong to Flores - May 2007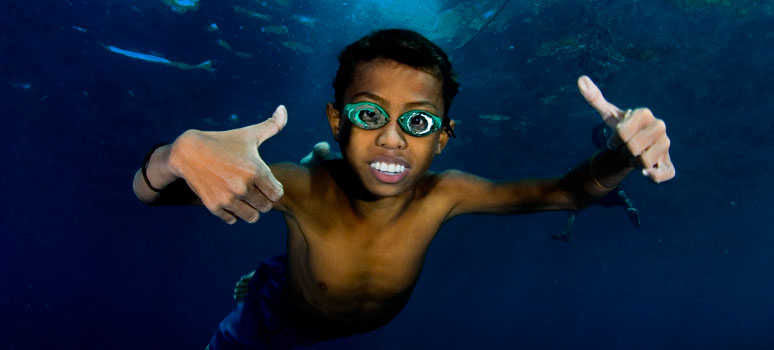 In 2006 I won a first and second price in the Wetpixel contest winning a price on the Kararu Voyager in Indonesia. We schedule the trip to coincide with a trip Eric Cheng was doing in Komodo and then we booked the trip before it with Fathoms in Raja Ampat, run by well known photographer Andy Sallmon. This area has become quite popular in the last few years for its amazing macro life, so Julie and I were really anxious to go.
The trip started in Sorong, in the northwest corner of Papua. Like most of the better dive spots in the world Sorong wasn't easy to get to. Our trip went from Amsterdam to Singapore, then on to Bali, to take another plane to Ujung Padang, and finally the last flight to Sorong. Almost every stretch needed a stay overnight due to the flights not matching up. But you just go with the flow and take it, because eventually you'll end up in diving heaven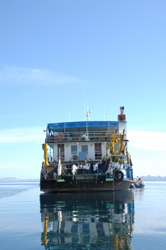 From a distance the Kararu Voyager looks a bit ungainly; large, square and obviously made for serious work. But once you go on board, the ship looks quite nice. There are a total of 5 decks for passengers, from the salon down in the hull to the dive deck, the cabin deck, the lounge/diner deck and finally a sundeck although that one is a bit harder to get to. It has room for an impressing 22 guests, and with all the available space you can go for hours without seeing half of them. The flip side is that such a big group of divers is going to be challenging for the photographers among us.
The group was a nice mix of people with American, Dutch, French, Italian and German divers. The ship is managed by a couple named Hergen and Kerri who just happened to have lived on the island of St Croix, where Julie and I spend our winters. Most of the rest of the crew is Indonesian, including all the dive guides. The one exception is the russian engineer, who basically came with the ship when it was bought. After the obligatory boat tour we headed to our cabin and collapsed.
The next morning we started diving at 07:30 at a site called Kri. As usual Julie and I did the first dive without our cameras. For some reason we thought this region was going to be a macro heaven, but it turns out it was actually an awesome wide angle site. So the next two dives we put on our wide angle lens and saw some of the nicest soft and hard coral gardens we've ever seen. The last two dives, at 16:00 and 18:30 we both switched to macro due to the deminishing light and found plenty of really cool stuff. This was promising to be a very nice trip.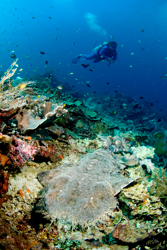 The second day we dove on a wide angle at a site called Yangelo. I have not seen such an abundance of hard and soft corals before on any of our trips. Unfortunately on the second dive the currents picked up and made photography nearly impossible. The third dive we saw a first, a Wobbegong shark. A trip just isn't complete until you see something you haven't seen before, so this was already turning out to be a good trip. Again we switched to macro for late afternoon dives where we saw the obligatory pygmy. Trying to get a good photo of those guys is an exercise in frustration as they continuously move around and in the end I didn't really get "the" shot of them, but that's ok, there'll be plenty of chances before this trip is over.
By the third day, or I should say, night, I was going absolutely crazy. There is this sound on the ship that is making it very hard for me to sleep. It's like having a loud air horn blown in your ear at random intervals of about 10 to 20 seconds. It turns out this is some kind of hydraulic steering mechanism. With earplugs I could dampen the worst of it, so I didn't have to resort to sleeping in the salon like one of the other guests. But the first few nights I wasn't getting a lot of sleep. Not everyone seemed bothered by it though, so it's probably a personal thing.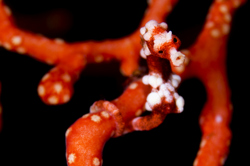 Luckily the next day we didn't get to dive until about 10:30 because the overnight steam had gone quite a bit slower than expected. The Voyager is actually a really slow boat, so any steaming takes a lot of time. But the voyage was worth it as we did a full day of diving at a really picturesque group of islands with a beautiful reef around it. We were shown some pygmy's (by now pygmy's were getting a bit boring) that may be a new species or otherwise a strange version of the bargibanti.
By now several people were getting a cold, including Julie and myself. It was hitting me full force on the 4th day, and after the first dive I gave up and skipped the next dive. I chose the right day to get sick though as today we only did two dives as we had to do a full 20 hours of steaming to our next set of islands around Misool. One girl was sick to almost the end of the trip, which was really sad to see.
We arrived on Koon Island the next morning on a large reef where we would do all diving that day. It was supposed to be a really good wide angle site but the weather was quite bad so it was turning out to be a macro kind of day. And I'm glad I did pick a macro lens as I got a picture I've wanted to shoot for years, my first moray eel being cleaned by a shrimp. This despite the current which by now had turned into a maelstrom sucking everything with it. I saw people whizzing by at warp speed, but even so, it was a great diving day for me.
Now we were entering the Banda sea on our way to Banda Naira, a tiny island in the middle of the Banda sea, far away from any civilization. This tiny island was once the center of many epic golden age sea battles between the Dutch and the British because it was the only place in the world where nutmeg grew. Most of the diving was in the Banda Naira harbor which, like many harbors, was quite nasty. It was a black sand muck dive, with lots of trash and unidentifiable floating bits. But these types of dives often hold hidden treasures and we found quite a few cool critters like Magnificent Urchins with shrimps, several types of eels, banded pipefish, stingers, dragonets, ghost pipefish, and many others.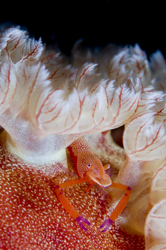 During the day we did an excursion to the small village and the fort on the islands. The fort was built by the Dutch to protect their nutmeg plantation. Many atrocities and wars were played out on this tiny island, a dark page in my countries past. In a local shop I bought some 3 centuries old VOC (east India company) coins that the locals dig up once in a while. A nice thing to remember this trip by. That night Julie did a night dive at Banda Naira and she saw a first again. Her first Spanish dancer with shrimp, and she nailed a great image of it. I regret not going.
The next morning we did a short steam to Ai and Run, two neighboring islands. During the morning briefing we were told some bad news, after many hiccups on previous dives the nitrox compressor had now finally died. The rest of the trip we would not have any nitrox available. That was quite disappointing news as it really cuts down your bottom time on dives between 50 and 80 feet, which a lot of the dives here are. It also means a lot of dives will be close to deco diving, which on long liveaboard trips is not the best thing to do.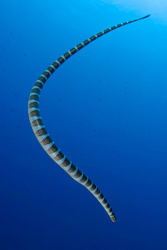 Something else I didn't like, and if id known before hand I probably wouldn't have booked this trip. We did a LOT of steaming. After the two small islands we were up for another long 18 hour steam to reach Maisel. This consisted of three virtually identical wall dives with unfortunately only a bit of soft coral. These dives sort of blended together, and after 3 dives we did yet another long 20+ hour steam, again losing several dives in the process.
The next morning we arrived at Gunung Api, aka Snake Island. This was one of the highlights of the trip, as this island is home to a very large population of banded sea snakes. We did three dives here and saw dozens of snakes. Really cool stuff. That afternoon we quickly took off again, now for another full day of steaming; the next dives wouldn't be until tomorrow afternoon.
The next morning we were told that we had veered off course and were nowhere close to our intended destination. This was due to some really nasty wave action which made sleeping or even walking difficult. To be able to dive at all they headed for the nearest island and we did a few exploratory dives. This can be a real gamble which this time fortunately worked out nicely as the dive site was very pretty. After a few dives on this unknown site we headed to the island of Alor, where we were supposed to be earlier.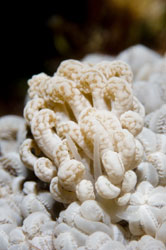 Around Alor were several really nice wide angle sites. After the first dive Kerri came up to me and says someone knows us here as a boat came by and asked for us. We were perplexed but supposedly the boat would be back in an hour or so to check if we were back. When they came back we realized it was Beo and Kirsten, who we had met before in the Solomon Islands and have kept in touch with. They knew we were on the Voyager and they happened to be in Indonesia, diving the exact same site, at that exact same time. What a small world.
At Pura Island kids came out to play which was really cool as these kids knew exactly what to do and had no trouble posing in front of the cameras. After the trip one of Julie's images here was picked as a cover for Scuba Diver Australia. We also found a nice frog fish here, our first on this trip. The dusk/night dive here turned out to be a real winner with lots of mandarin fish, and a really pretty and hard to find nudibranch, courtesy of Julie.
With only 2 more days of diving to go we headed to black sand of Beangebang. We did 5 dives here, some over 1.5 hours. We found tons of critters, from pretty nudibranchs to crabs, shrimp, cowries and very docile mantis shrimp. I watched one mantis shrimp clean out his hole for about 45 minutes. It was hilarious to watch as he kept coming out with piles of rubble, or even a big rock that he was just pushing out. I would sometimes throw a rock back in the hole and I swear the shrimp was yelling at me to stop that nonsense.
The last day of diving was at Kawula which was an ok macro site, but unfortunately very poor visibility. I did get to see another first, in the last 30 seconds of my last dive of the trip, a yellow ribbon eel. After two dives there we headed for our last long steam towards Maumere where most of the passengers were going to get off the ship the next morning. Four of us were staying for the next trip to Komodo
The next two days we were in port in Maumere. We did some excursions but mostly we just relaxed, partied at night (ok, one night I'll have to file away and make sure I'll forget forever as it got a bit too wild), and we did a couple of dives in the harbor. That was actually quite a nice dive. We found a sea horse, some real stone fish, lots and lots and lots of nudibranchs, mandarin fish, cool dragonets we'd never seen before and lots of other cool stuff.
That night the rest of the guests for the Komodo trip came on board, but that will be continued in our next trip report! We had a great time on this monster trip from Sorong to Flores, and even though there was a lot of moving around, we enjoyed almost every dive site and saw a lot of things we had never seen before. That makes any trip a great success.
| | | |
| --- | --- | --- |
| The | | End |