Komodo June 2007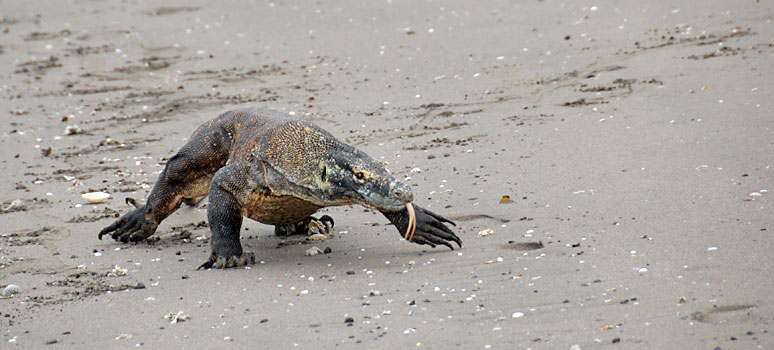 Julie and I planned two back to back trips on the Voyager in Indonesia. The first trip was a Fathoms trip from Sorong to Maumere. You can read about this trip in our previous trip report. The second trip was a trip to Komodo, beginning in Maumere and ending in Bali. I had won this trip in the Wetpixel, Our World Underwater contest, and managed to join Eric Cheng on a trip he planned on the Voyager.
Since we did two trips, we were already on the Voyager before the other passengers arrived. We did some dives in the Maumere harbor which were actually quite good. We found some stone fish, dragonets, and other typical harbor critters. On the second day in the harbor the other guests arrived, but they brought awful news; almost no one had their luggage. This was going to cut short out intended itinerary, as we had to stay another full day in the harbor of Maumere. Granted, it's a fun muck dive, but after 3 days you've seen it. But we got to talk a lot with the other guests, including Eric Cheng and Norbert Wu, another well known photographer. Also joining us again was Andy Sallmon, who decided at the last moment to stay on with for another trip.
Luckily the next day all the luggage arrived and we left Maumere for our first dives at Palau Raja. It was a typical rubble slope type dive, and wasn't too exciting. So we asked the crew if we could pack up early and head to Komodo Park, a full 20 hour steam away.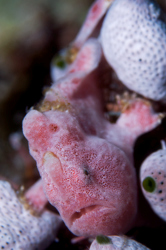 We did our first dives in Komodo National Park at the northern end of Rinca island. During four dives there Julie found a really cool frog fish, and at night we found some interesting nudibranchs. We also saw our first ladybug copapods. This was unfortunately a very bad day for Eric. Not only was his macro port leaking, but today a crewmember made a mistake and Eric's Seacam housing dropped off the camera table, about 3 feet high, on a metal floor. I saw it all happen and it was very painful to watch. The damage was extensive. His dome port was damaged, some bits inside the housing were compressed, but worst of all, his fish eye lens broke in half.
Early the next morning the wake up call came in the form of the anchor dropping and we had arrived in the more southern area of Rinca. After a morning dive (again not very productive) in Komodo Park we did a land excursion and we got to see our first Komodo Dragons. That was quite cool as it was our first time seeing the dragons, but really not as exciting as it sounds. They just lie there and the park rangers poke them to get some form of life out of them. Oh well, we still got to see them. The afternoon dives were at a beautiful site called Padar with an abundance of soft coral, fish, nudibranchs and other cool stuff. This was looking very promising, and had by far been the best dive site up to this day.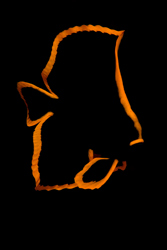 Now we were heading to the real heart of Komodo, the Horseshoe Bay area. If it were up to me we would just have gone there on the first day and stayed there the whole trip. This is a beautiful area, with pinnacles, walls, muck, and everything in total abundance. We didn't know what to photograph as one thing came after another in an endless series of cool finds. We found frogfish, immense numbers of nudibranchs, shrimps, crabs, sea horses, and around the pinnacles you could sit for hours watching the millions of bait fish being attacked by predator fish. It was awe inspiring. I got my photo of this trip here in the form of a juvenile batfish, a photo I've wanted to take for years and finally managed to do.
The one negative part is that diving here is relatively cold. The water reached a low of 75, which for me meant I was wearing a 0.5mm undersuit + 5mm full suit + 3mm hooded vest + 3mm second hood on night dives. Most people were using 3mm + 3mm hooded vests and I saw quite a bit of shivering going on.
The second afternoon in the bay we saw a Komodo Dragon on the beach and decided to head out there. We had a small group with Eric, Norbert, Andy Sallmon, Julie, me, and a couple of others and for about 30 minutes we had a real encounter with a Komodo Dragon on the beach. It was very inquisitive and hung around us for a long time. There were also several eagles or hawks circling overhead completing the whole Jurassic feeling. This was much better than the fake encounter in the park.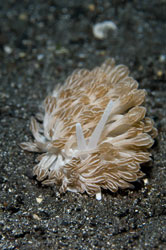 All good things come to an end as we left the bay the next morning for Banta island. I personally wasn't too impressed with the dive sites here. They were very pretty for just watching the fish life (there were countless antheas), but not very photogenic. I also didn't find much macro stuff so I eventually skipped the night dive.
Next we went to an active volcano around Sangean island and did a full day of diving on the black sand next to the island. This was true muck diving, and it was pretty decent as muck dives go. We saw some nudibranchs we'd never seen before, which is what really makes a dive nice for us. We also saw some boxer crabs, only the second time we ever saw those.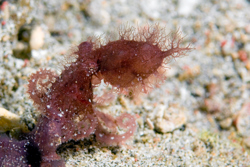 With only two more days to go we're getting closer and closer to Bali, heading to a dive area around Satonda. Like everything here it's pretty, but we didn't find a lot of interesting photo material. That is.... until Kerri spotted a hairy octopus. That must have been the rarest find of this trip, or even any of our trips. Even the dive guides hadn't seen one of those before. I took a decent shot of it, so I was quite pleased with this day of diving.
On the final day we headed to Bali proper and visited the Liberty wreck. It's a famous wreck on the north shore of Bali and therefor extremely busy. When we arrived dozens of divers were on the wreck, but to me it didn't feel too crowded as it's quite a large wreck. I did get to see the most unusual human spectacle. Dive guides were literally pulling along people that you can only describe as underwater visitors, they could not be called divers as they did absolutely nothing, not even kick. Fascinating to watch, must be the Padi Underwater RikShaw Specialty. All fun aside though, it is a beautiful wreck and we had a lot of fun diving on it. I used wide angle on all dives, but it's obviously a beautiful macro dive as well.
Julie and I have a new favorite dive area and it's called Horseshoe Bay. I could spend weeks there, and still find new things. We unfortunately had a lot of problems with the Voyager, from broken photo gear to parts of the boat malfunctioning to people being left on dive sites upto three times! But it didn't spoil the breathtaking beauty of Komodo, Rinca and Bali. We'll definately come back.
| | | |
| --- | --- | --- |
| The | | End |