Ultimate Indonesia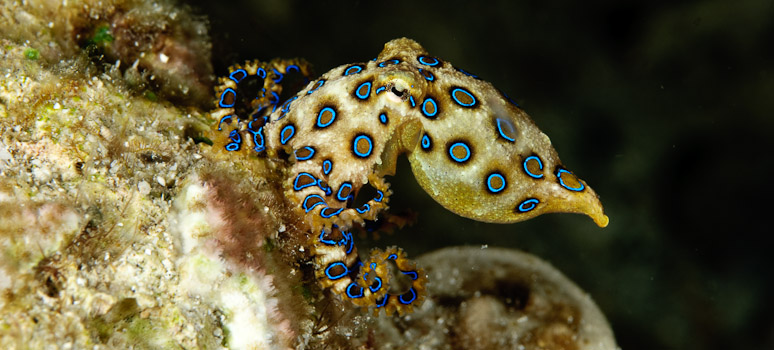 I heard a loud noise behind me. I recognised the sound immediately, it was Julie's underwater excitement noise. I knew right away she found something cool, and I had a good idea what it was. We were briefed that there may be Blue Ringed Octopus on this dive site, and I had a feeling she found one. When I got closer to her I saw the telltale markings of the Blue Ring, only the second one we've ever seen. This was just one of many times where Julie found something new and amazing. This is Ultimate Indonesia, a long trip that brought us from Lembeh, through Raja Ampat, Halmehera, Ambon, Banda towards Maumere. Around 40 days of diving in the epicenter of marine diversity, with a great group of people. Five of us were doing the whole thing, from beginning to end, this is our day to day journal of this trip.
Day 1. We started off the monster trip in Lembeh. Eight of us met up in Singapore where, after a night in town, we got on the plane. All of our luggage arrived, which is always a good start. After another 2 hours in the car we arrived at the resort. This turned out to be a very pleasant surprise. The Black Sand resort is a good mix between comfort and functionality. It's relatively small at 12 divers max, but that makes it an intimate place and easy to fill up with a small group. The rooms were simply gorgeous with a great view over Lembeh Straits. We did a night dive that same day, but as always Julie and I didn't take our camera's. We just made sure our gear was working.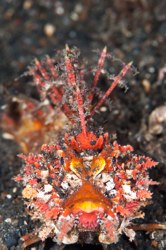 Day 2. Lembeh diving is very easy. Black sand, more black sand, and for a bit of change you have some white sand. But in this sand hides a wealth of critters, more than you can possibly photograph. The resort was using some comfortable boats, and before we knew it we were exploring. Lots of critters hide in the sand, so you always have to worry where you put your hands. In the sand we found scorpion fish, devilfish, lizardfish, all kinds of eels, stonefish, etc etc. We also found plenty of nudibranchs and other interesting critters.
Day 3. Another thing I really liked about Black Sands Resort was the dive center. It was plain, simple, but very spacious. At no time did I feel I didn't have enough space, and I also never felt rushed. There was a very relaxed attitude which I really enjoyed. The funniest thing I saw that day was a crab that was carrying around an urchin on its back as protection. You could easily see two arms of the crab just holding on and lugging it around. Hilarious! We also found a beautiful solar powered nudibranch.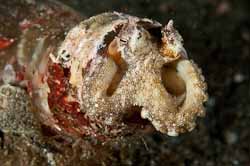 Day 4. We had pretty much settled into a rhythm by now. Two boat dives in the morning, followed by a day and/or night dive. The night dives were the most productive, as the black sand really comes alive at night. Lots of crabs, shrimps, eels and other critters scurry about. We saw several huge frog fish, maybe the biggest i've ever seen. Needless to say we all had macro lenses, so all we could get was a face shot. We also got two of the signature Lembeh shots today, an octopus in a bottle, and an octopus with a shell.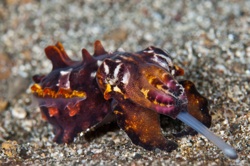 Day 5. We saw something we'd never seen before today, a Flambuoyant Cuttlefish. They were really easy to photograph as they didn't seem at all bothered by our presence. They just kept on hunting, and we got some good shots of them snatching morsels from the sand.
Day 6. We got more Flamboyants today, but otherwise it was a 'slow' day. Slow meaning, we didn't see anything new that we hadn't seen before. That doesn't mean we didn't find anything, quite the contrary. It's hard not to find anything in Lembeh. The previous 6 days in Lembeh had proven us that this is indeed one of the critter capitals in the world. We did this part of the trip to get a taste of Lembeh, and I think everyone felt sad to leave. It was clear that we hadn't even scratched the surface. We'll certainly come back here to explore some more.

Day 7. This was a day of traveling. We moved from Lembeh to Sorong, a 3 hour flight in a medium sized plane, which besides humans was filled with little chickens. Again all our luggage made it. In Sorong we met Graham for the first time. He was going to be our diveguide for the rest of the trip. He knows everything there is to know about Indonesia diving, which proved to be a great help during the trip. We had a nice dinner in a local restaurant, and collapsed that night.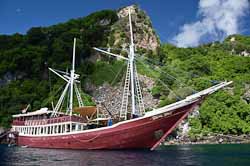 Day 8. We got on board the Seven Seas for our first trip. This first part was going to be mostly exploratory which can be a hit or miss. We were going to check out some areas around Halmahera which were not frequently dived. I was pleasantly surprised by the Seven Seas, which turned out to be a gorgeous ship. The layout of the boat is very nice, and our cabin was easily the best cabin I've ever been in on a liveaboard. We did a late afternoon checkout dive near the harbor which was a decent macro spot.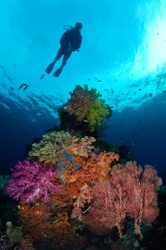 Day 9. We arrived at Misool, one of my favorite areas in this part of the world. Here you can find both breathtaking wide angle sites, and amazing critter life. I took a macro lens in the morning, going after a specific blenny, and managed to get a pretty decent shot of it. In the afternoon, with the sun going strong, we switched to wide angle and with a bit of a current going through all the soft corals were open, the fans had their polyps out, the fish were swarming, and it was just fantastic to watch. Most of us felt a little sad we only did one day here, something that would come up a few times later in the trip.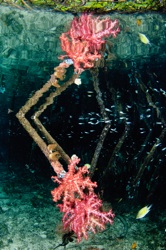 Day 10. I've been in mangroves before, but nothing like what we did in Nampele at a site named "Blue Water Mangroves". This was mangroves on steroids. We entered the water in a small channel, with little offshoots that you could explore. There was something truly magical about exploring these mangrove offshoots, barely 3 feet deep, with canopy overhead, archerfish buzzing around, soft corals and sea fans on roots, and nothing but the sound of your breathing and the lightbeams through the trees. Most of us did only 2 dives, but these were 2-3 hour dives as you never went deeper than 6 feet. We also did a night dive in these mangroves and found a ton of nudibranchs. It's only been 2 days on the Seven Seas and I felt this was the best diving I'd ever done.
Day 11. We headed to Halmahera to see what we could find at places that had never been dived on before. We went to an island called Pisang and dove around there for a bit. It was abeautiful coral landscape, very lush and covered in soft corals, fans, sponges, pinnacles with barracadus. We found some cool macro stuff, but nothing especially exciting.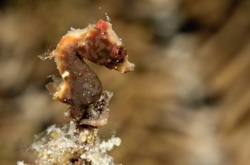 Day 12. We dove on a beautiful reef today at Mano, and it paid off. Julie found her first brown pygmy sea horse that looked almost black to the eye. They're extremely hard to find so she was quite excited to find it. We did three dives here, and all were good. On the second dive I photographed my first jawfish with eggs. At night some people photographed a triton shell eating a crown of thorns. To top it off, it was my birthday today, which I had totally forgotten. They brought out a cake and I said out loud "Hey, it must be someones birthday". Everyone thought I was joking when it turned out to be my own birthday, but I wasn't. I was so engrossed in the diving, relaxing, and just enjoying myself that I had simply forgotten it was my birthday. I would say that is a positive thing!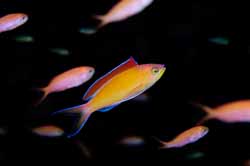 Day 13. Today was a sandy slope kind of day and I generally like those. We saw sea horses, lots of crabs, shrimps, and the smallest nudibranch I'd ever seen. Lots of people spent most of the day trying to photograph flasher wrasses, which can be extremely annoying. But some people got some nice shots.
Day 14. This day was a bit of a bust. We were supposed to see nice wide angle sites but none of the sites really performed. Only the third dive was nice, although there were no fish around. So most images just ended up having a lot of empty space. The night dive was outside a little village, in a mangrove area. Some people were a little worried about mosquitoes and malaria this close to a village and mangroves.
Day 15. Today was a total bust as well, and some people were reconsidering the exploratory part. It seems Halmahera is just not that great for wide angle. We dove 2 dive sites, both were completely bombed out by dynamite fishing. Rubble as far as the eye can see. I took maybe 2 photos the whole day which is an absolutely record for me.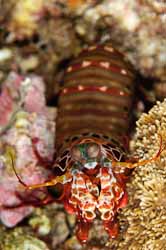 Day 16. We had a beautiful site today, but unfortunately we barely got to photograph it. The current was so bad, at time I got spun around several times in an eddy. You were continously trying to maintain some position, and to do that you had to flip around all the time. The current was just being really weird.
Day 17. By now some people were getting really antsy about the trip. Not so much the dive sites, they were generally pretty, but not very photogenic. A lot of sites just didn't have any color, nor anything you could put in the background like schooling fish. Today was another one of those days, the fourth in a row. On the third dive I found a small sea snake and stayed with it for the whole dive, just watching it hunt and taking some photos. That was really cool.

I did have an unfortunate accident that day. My laptop fell and the harddisk got corrupted. I had forgotten to bring my rescue drive, so I couldn't fix it. Luckily Eric had everything to fix it, and over the next 2 days I was able to bring the computer back to life. I saw the positive in it, in that this meant I just simply had to buy a newer model!
Day 18. We finally had a full day of pretty good dive sites. First we dove on a jetty in a small town. We saw lots of little critters like a juvenile spanish dancer, lots of shrimps, crabs, nudibranchs and so on. Then we dove on a small island, which ended up having a beautiful rubble slope. Not good for wide angle, but great for macro. The night dive was especially amazing, with all kinds of nudibranchs, sea snakes, cowries, and other life. Eric was really amazed by a bristle worm exploding in a cloud of vapor after he tried to push it away. The same happened to me. I didn't know they did that!
Day 19. We arrived in Ambon and dove some sites on the southern coast. They were wide angle sites but it was a bit of a let down. We just didn't have much luck. If it wasn't some tropical rain storm it was a raging current. The second dive was an interesting set of swimthroughs, but it was hard to get a good photo with so many divers. At night we went to Ambon harbor, which was the best dive of the trip so far. The site is called Twilight Zone and we saw everything from frog fish to spanish dancers to cuttlefish mating.
Day 20. We headed to the east of Ambon and again the rain followed us. The reefs we dove on were just gorgeous though, the most healthy reefs i had ever seen in Indonesia. There were actually small schools of huge groupers, and large schools of jacks. The most fun part of the dive was watching people swim away in panic from very angry titan triggerfish! At the end of the day it turned out Jim had shot an image of a Dugong, with a macro lens!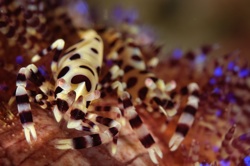 Day 21. We headed back to Ambon Harbor for a full day of diving on Twilight Zone. It was really amazing. All day people came up seeing new and amazing stuff. Every dive we saw frog fish, cuttlefish doing all kinds of interesting stuff, nudibranchs, crabs, shrimps, the list just goes on and on. The night dive rates amongst the best night dives I've ever done.
Day 22. It's the last day of diving for the people leaving after the first Seven Seas trip and we dove Twilight Zone again. Again it was really good. I'm especially happy that I found my own Harlequin shrimp for the first time, and Julie found some cardinal fish with eggs. On the dusk and night dive we targetted the Harlequin shrimps and the cardinal fish and got some very nice shots. I could have dived this site for weeks and not get bored.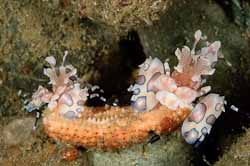 The trip as a whole was good, but I think many of us expected a bit more. People that were really into wide angle did not really get their fix. We had very few really nice wide angle dives, partly because of the weather, partly because the exploratory diving just didn't result in many high level dive sites. That is the risk you take if you do exploratory diving. Twilight Zone in Ambon on the other hand rates amongst the best macro sites I've ever done, maybe only bested by Canibal Rock in Komodo.
Day 23. We left the Seven Seas today and moved to Maluku Divers resort. The resort itself is a bit rustic, but nice enough. We did 2 dives today, and we saw our first Rhinopias! I even located one myself. Ambon is really making its critter reputation come through. In the afternoon we did some shopping in the town of Ambon, which looked exactly like any other busy Indonesian town. It was quite funny to see what we all got from the supermarket. Candy!
Day 24. We did some more dives in the Ambon harbor during the day, but the real fireworks happened at night on the house reef of the resort. Julie found a blue ring octopus which was only the second time we had seen those. This was a real small one, and it didn't seem to care about us at all. It just kept on hunting for food.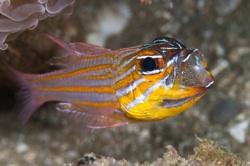 Day 25. And yet another day of diving on Twilight Zone, and again we found lots of cool critters. You know you're spoiled when if you see 2 frog fish you call it a slow day. I just don't know what to write anymore. Every day of diving in Ambon something cool happened and we all really enjoyed this time in Ambon. The only thing we missed was the psychedelica frogfish, which all of us really wanted to see, but we knew the chances were slim. Besides that, we saw everything you can imagine and then some. I really loved Ambon.
Day 26. Today the second trip on the Seven Seas started. Unfortunately one person missed a flight connection so we spent another day in Ambon diving on the mucky sites. I don't think anyone minded. The second trip was almost a wetpixel staff trip. It had Eric, Matt, Craig, Julie and myself. I had never met fellow admin Matt before, so it was nice to finally meet him. Matt brought a diopter for me that Keri Wilk from Reefnet loaned me to play with. I took it on the second dive and did some closeups of goatfish. Matt was used as a mule on his travel, as several people had him bring stuff. He even brought a whole video set for Mary Jane who flooded her housing on the first trip.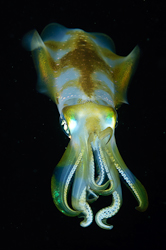 Day 27. We had to wait for the last person to arrive so we, surprise surprise, did more dives in Ambon. We found about 5 frog fish during 3 dives, and at night I found a nice squid out away from the reef. Our next leg was going to be long but we decided to do the night dive in Ambon and skip the early dives the next day. That night our trip started to get under way.
Day 28. Our first stop was the Banda Islands. We first dove Suanggi Utara, a wide angle site. It was extremely beautiful with lots of unspoiled hard coral reefs. The problem with those kinds of reefs is that it's hard to photograph. At night we headed into the Banda Neira harbor. We had been there before on a previous trip and loved it. Unfortunately something had changed. In the first 30 minutes of the dive we literally found nothing. It was as if a hand had gone through the water and took everything. The second half of the dive was slightly better, but I took less than 10 photos the whole dive.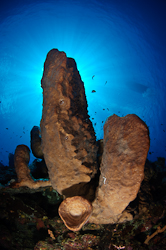 Day 29. We remained anchored in Banda Neira harbor and dove some of the reefs outside of the harbor. These sites are maybe 15-20 minutes away by skiff, but it was a very pretty ride with a beautiful view of the whole island and surrounding area. Again though, very pretty hard coral gardens, with little color to make a pretty image. The third dive we did on a lava flow. About 20 years ago the vulcano rising over Banda Neira erupted and left a huge lava flow all the way into the ocean. On the lava a very rich hard coral reef has grown amazingly fast. Most of us came up early and soon after we did a land tour into town.
Day 30. In the early morning some people opted to do a mandarin dive. Male manderins do mock fights in the morning to claim rights over a small area of reef. Julie and I slept in, and only did the two later dives at Banda Ai and Banda Run. Both dives were pretty, but not especially photogenic. We had to skip the night dive so we could make it to our next stop at Lucipara, some 20 hours steam away.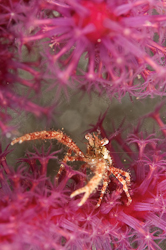 Day 31. I woke up at 7am and immediately knew something was up. We were not moving even though we weren't scheduled to arrive at our next destination until about noon. When I went outside i realized we were at Banda Run again. In the middle of the night the weather got really bad, and the captain got a warning from Bali that a storm was passing through near our scheduled stop. So he decided to head back again. We ended up doing some more dives around Banda.
Day 32. In the morning we did two dives at Banda Ai and Banda Run, preparing for our second attempt to reach Lucipara. We left early, so we would arrive around 7am. This meant most of the day was used traveling, and we spent it watching movies, reading, sorting images and so on. This time the weather was great, lots of sun, flat seas, and a nice breeze. Lovely weather to sit on the deck and relax.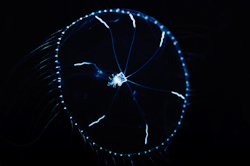 Day 33. This time we made it to safely and we spent most of the day on an exceptional wide angle site. Soft corals everywhere, little caves with overhangs covered in corals and fans, turtles and dogtooth tunas buzzing by, and just enough current to make it al extremely pleasant to photograph and watch. During the night dive I spent most of my time in midwater as tons of squid were buzzing by, inking all over the place, hunting in the lights, and making themselves impossible to photograph. I also took some interesting shots of palagic 'stuff' floating by.
Day 34. This is what some of us had been waiting for; we've finally arrived at Guning Api, aka snake island. Here you can find huge amounts of sea snakes, completely oblivious to photographers. We didn't see as many as we had hoped for, but it was still a great spectacle. On every dive we saw at least 10+ snakes, from small ones, to very large ones. I alternated between macro and wide angle, to try and get different angles. This worked out nicely.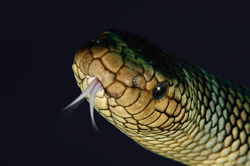 The island is also home to thousands of sea birds. There isn't a single silent moment as the birds make a huge racket day and night. In the afternoon Graham spotted a bird in trouble. It was unable to fly out of the water, so he caught it and brought it on board. It was a large Boobie, and Julie, Graham and Jorge cleaned off a large amount of sticky burrs from its feathers. We let it dry off, and a few hours later brought it on land and released it. Towards dusk we went on land again, to explore a bit. We found a lot of nesting birds who were not at all bothered by us. Some had little chicks, and we also found some empty nests with eggs. The Boobie chicks were especially cute.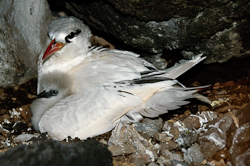 Day 35. A few days ago we heard a huge bang. It sounded like something exploded and it turned out the compressor had violently stopped working. We paid little attention to it as they could fix it by taking parts from another compressor. Today the fixed compressor broke as well, and we were left with only one working compressor that was unable to deliver nitrox. This meant that from now on we were on 21% again, much to everyones dismay. We were diving air in Ambon, and we all hated it. At that crucial depth between 40 and 80 feet, your bottom time is seriously impacted without nitrox. The first dives of the day had people going into deco, people yelling at their (mostly suunto) computers, and other lovely air related scenes. This wasn't helped by the fact that there were strong currents, so people were going through their air faster, and even for safety stops you were sometimes fighting to stay at 15 feet.

All these issues aside, the diving was amazing on this second day at Guning Api. There seemed to be fewer snakes, but still enough for everyone to get their favorite shots. That night we steamed onwards towards Wetar, and had the roughest crossing I've ever had on a boat. Some people were afraid they would fall out of their beds, and I couldn't sleep most of the night due to severe air time in my bunk. I was doing ollies and 360 spins.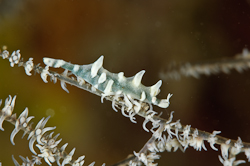 Day 36. We found a nice little bay where we did four muck dives. We found some cool critters including a huge sawblade shrimp and a juvenile ornate ghost pipefish.
Day 37. We have reached Alor, and our first dive was the the worst visibility I'd ever been in. Some weird surf action caused a huge cloud of sand to stir up and as we descended I hit the bottom without ever seeing it. Even as I could feel it, I could not see it. That was the signal to go back up, and it turned out most other people did as well. We picked up some of the die hards and headed a few hundred yards to a better site where I found my first horned shrimp!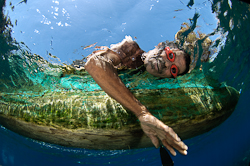 That afternoon we went to Valley of the Clowns, which turned out to be one of the richest reefs most of us had seen in a while. It reminded Julie of Cannibal Rock in Komodo. I never saw it, cause I spent my whole dive with a group of kids at the surface who had just as much fun as I did just playing around in the shallows. Once they got ever their initial shyness it was all-out chaos with kids everywhere.

The night dive was at Beang Abang, a site we had been to before on a previous trip. It turned out to be amazing. We saw two small frog fish, several Ambon Scorpionfish, lots of octopusses, squids, shrimps, crabs and much more.

Day 38. We spent the whole day at Beang Abang, which is turning into one of the best macro sites any of us have ever seen. The site is especially rich in octopusses and Julie and I saw our first Wonderpuss! We thought this was really special, but then we started seeing them every dive. Not just that, we also saw mimics that mimiced the Wonderpuss, but are distinctly different. We saw all kinds of pipefish, sea horses, cool shrimps, squids, the list goes on and on.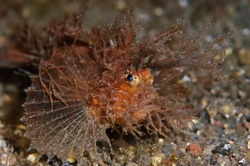 Day 39. By popular demand we did another full day at Beang Abang. Matt found a really cool shrimp that some of us photographed and we believed it might be totally unknown. It behaved like a Harlequin shrimp, but was much more subdued in color. Eric emailed Lesie, our wetpixel resident critter expert, and she was able to id it. Still pretty cool, as it's not a very well known shrimp. Oh..and we saw more Wonderpuss and other octopusses, but you have to brush them aside taking photos of other stuff! :)
Day 40. It's the last day of our long trip. Since our flight was at 7am the next day, we decided not to dive. This second trip of Ultimate Indonesia has been a really cool experience. We've seen many things we had never seen before, and had very few days where we had bad dives. Guning Api was especially cool, and so was Beang Abang. After 40 days of diving, and a total of 133 dives on my computer, we're dived out though. It's a lot of diving but it was worth it. What made it really enjoyable was the company. It was really nice hanging out with all the wetpixel people, and also with the people we hadn't known before. The Seven Seas is one of the best boats we've ever been on, setting a new standard for us that others are going to find hard to match. It's spacious, well run, nice cabins, and a smooth dive operation. I also had a very good experience diving with Graham. His spotting skills and knowledge of the area added something special to the trip. He also must be the most patient and relaxed person around, as he never lost his cool as some of us complained about yet another missed exploratory, or only 14 instead of 35 frogfish, or whatever we divers all complain about. Quite the contrary, his upbeat and relaxed attitude made it all seem even better than it was. We cant wait to dive with all of these people again!
| | | |
| --- | --- | --- |
| The | | End |
For more images see our gallery (coming soon)