Solomon Islands June 2006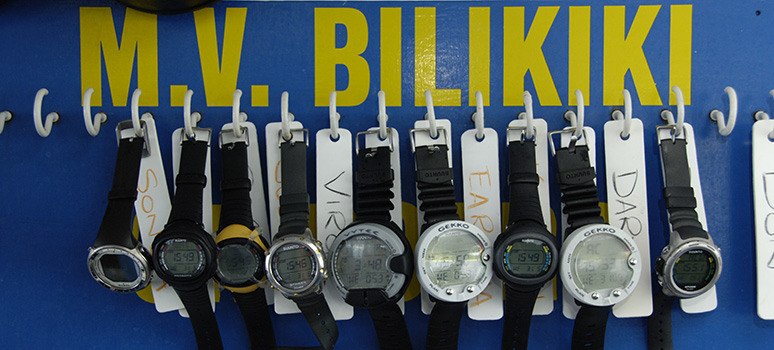 During our previous trip on the Stardancer in PNG we decided to book two back to back trips on the Bilikiki. First a 7 day trip, and then a 12 day trip. It meant staying a few days in Brisbane, which we gladly spent contacting our friends and family and catching up with the world. After 4 days in Brisbane we got on the Solomon Airlines flight to Honiara, and landed in a country that had recently seen some turmoil. The evidence of this was visible during our bus ride to the hotel where we had to spend a few hours while the Bilikiki got itself ready for us. We saw a burned out hotel, businesses and houses, which were torched in riots after the locals got upset at the election of a politician. Luckily this doesnít affect the tourists at all. From our point of view everything was as it had been the previous trips, and there was no tension whatsoever. We boarded the Bilikiki as usual, unpacked our gear, and were ready to rock and roll on our favorite liveaboard.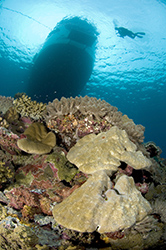 The first dive is usually a checkout dive, and Julie and I use it to do just that, check out our gear. We donít take any camera equipment. Iím glad I didnít because my mask, which has seen heavy use before, mysteriously decided to have a fogging party even though I used defog drips. I was going berserk underwater trying to clean it, and I think I messed with some peopleís heads as I was passing them without a mask on, trying to clean my mask with some floating algae (which is supposed to work, but didnít, no surprise there). Needless to say I didnít see much of our first dive. Luckily this problem just as mysteriously disappeared on the next dives at famous Leru Cut, Custom Cave and Mirror Pond. Unlike last trip we didn't encounter a salt water crocodile.
On the second day we went to Maryís Island, an island in the middle of nowhere which is home to schooling jacks, barracudas, sharks and other pelagics. Unfortunately the current wasnít happening so the schools didnít form. I spent most of my dives just behind the back of the boat in one of the most beautiful hard coral gardens Iíve ever seen. The visibility was really good, which made for some nice wide angle opportunities.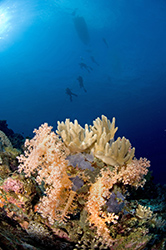 By now we really got to know most of the other guests, and we lucked out. It was a really nice mix of people, from Australia, the US, Germany and the two of us from The Netherlands. Everyone was as jolly as can be, and most people were good divers. You never know who you end up with on a liveaboard, but this time it was a great group. The only bad thing so far was that both Julie and I had gotten a bit sick. Julie was running a slight fever, and both of us were down with a cold. We did dive as much as we could, but even with Sudafed it wasnít that comfortable. We ended up sitting out a few dives.
The third day we went to Rainbow, one of my favorite sites of the last trip as I shot a price winning image there. This time I wasnít really in the mood for pictures, but I took some wide angle of divers on the mooring line. They turned out ok. After that we moored at the Wreck of the Ann, where we did the next two dives. We sat out the second one as we felt too sick to dive. The last dive of the day was at Whitebeach. We got there a little later in the day so I did macro although my mind wasnít really in it. I had trouble clearing my ears and had a killer headache. I saw a funny jaw fish that kept opening its mouth so I spend some time just looking at it. The warm water seemed to have influenced the amount of coral here as some of the spots I remembered being covered in soft coral were now empty. Still, itís a great macro site.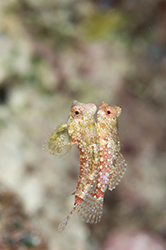 The next morning Julie and I felt terrible. We both sat out the first dive, which was unfortunate as the rest of the group saw a large school of Mobula Rays. I forced myself into the water for the next dive since it was a dive weíd never done before. It turned out to be a gorgeous site with lots of soft corals, fans, whips, and a very pretty and healthy looking reef.
After this I felt a bit better and did the usual 4 dives a day. You can do 5 dives a day, but I normally donít do the night dive. I wish I had because on the 4th day at a site called Tulagi Switzer one of the guests found a Halemeda Ghost Pipe Fish. Julie parked herself at some mating dragonets, which she managed to photograph beautifully. They also found a nice purple leaf fish. Not bad for a days diving. This led into the last day, which started at a site weíd also never done before named Passage Rock. It was a really nice relaxing site, with enough current to just drift along and watch the scenery. We saw at least a dozen black tip sharks, and some mobula rays. First time I ever saw mobula rays.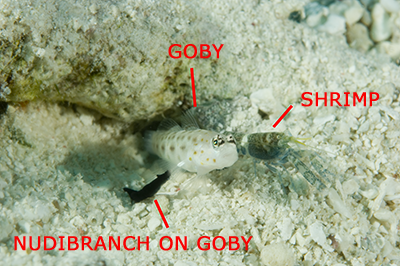 We ended the trip on Anuha, a really nice site to end the trip. Itís got some macro, some wide angle, and isnít that deep. Julie found another first here, a Gymnodoris nigricolor, which is a fascinating nudibranch. It attaches itself to a small goby, and basically lives off it as a parasite. Awesome stuff.
That evening we did a wonderful sunset cruise, which is the usual end of the trip. This was a wonderful group of divers, one of the best weíve had on a liveaboard. Everyone just fit really well together and we had a lot of fun.
The next trip wasnít until two days later, so we spend those days lounging around Honiara. We read some, watched some movies on our laptop, arranged our images, and helped out Monty and Michelle with some computer/GPS stuff onboard the Bilikiki. The two days went by really slowly, but it wasnít too bad. Honiara just isnít a great place to hang out.
The start of the next trip was a little different. This time we went to the Florida Islands first. The weather had turned sour a bit, with lots of wind and a bit of rain, so a short first crossing was probably better for morale. It can be quite hard trying to sleep with jetlag and a moving room. The first day was average. Nothing especially nice turned up, although I did see some more mobula rays. We moved to the Russell Islands the next day, but due to the worsening weather we didnít really have any really nice dives. So far these were my least productive days in the Solomons.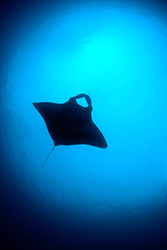 The third day we spent at Maryís Island. There was a raging current, and we spent most of our time hanging on our reef hooks (which should be named rock hooks, so people dont think you can actually attach them to the reef). There was a huge school of Chevron Barracudas hanging around, mingling with some of the divers. We didnít see many Jacks this time; they were on some sort of walkabout. On the third dive of the day an absolutely massive Manta Ray swooped right over our heads. It was the second time Iíd ever seen a Manta so I was quite happy. I was using a fish eye lens which gave the picture a funny look to it.
We crossed over to Marovo Lagoon that night and did our next day of diving at Kokoana Passage. In the past we had seen a lot of interesting critters here, pygmy seahorses, Xeno Crabs, etc. This time it wasnít as nice, although for wide angle this dive site is gorgeous with plenty of fans, whips, corals and the occasional shark or ray swimming by.
Our next stop was Lumalihe Passage, another inlet for the lagoon where currents can be quite strong. We did all four dives here, and an old friend of ours, a pink leaf fish, was still around for the third consecutive year, although on the third dive he was hiding from us. We mostly did drift dives as the current was too strong to stay in one place too long.
This trip was marked by a lot of equipment failures, which is quite uncommon for us. It showed us that you canít take enough spares with you. Our list of failed equipment included a Nikon D2X body, 3 YS90DX strobes, our nitrox analyzer, a Fisheye focus light and 3 batteries for the Fish Eye. On top of that a small piece broke off Julieís D2X housing. Luckily we had a spare D2X, 2 spare strobes (we could somewhat repair one of the failed ones) and I was able to fix the focus light after completely taking it apart and putting it back together. We borrowed 2 batteries from Monty and Michelle, the managers of the Bilikiki. When youíre out in the middle of nowhere, you can only rely on what you bring with you, so donít skimp on spares. We werenít the only ones with trouble. Two people fully flooded their housings and cameras. Bad stuff. Luckily the Bilikiki is well equipped with lots of spares and parts that the managers have collected over the years and are willing to loan or rent out.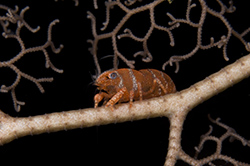 On the 6th diving day we did two dives at Karanjou, which is good for both macro and wide angle. I mainly looked for Pygmy seahorses, and after Michelle pointed out a fan that had some, I found 11 seahorses on it. We then did Chrisís Corner and Rogers Reef. The night dive was at Georges Nightspot, which is one of the few night dives we always do. This time we found some basket star shrimp which are quite difficult to photograph. Working together we managed to get some of the best shots ive ever seen of basket star shrimp.
The next day we did a dive weíd never done before called Lutonís Wall. It was a nice sloping wall with fans and soft coral. We also dove on Anemone Point, Totalave and Mbili Shallows. After the third dive we did a village visit which is always fun to do. Itís amazing how intricate the carvings are that these islanders make.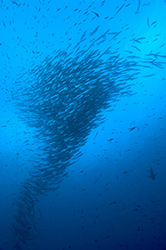 The weather so far hadnít been that great. Unfortunately this limited the choice of dive sites a bit. We stern tied to Wickam Islands on the 8th day, but unlike every other time weíd been here it was quite bad because of the weather and the surge. Oh well, it happens, you canít control the weather.
We headed back to Mary after this and had a great day there. The barracudas and jacks were out in force, as were the sharks. We had another close encounter with a huge Manta Ray. Second one on this trip.
The morning dive on the 10th day was at Rainbow, one of my favorite sites for wide angle. I took some nice soft coral images. Next up were Leru Cut, Custom Cave, and Losoilene, all of which I normally do as wide angle, but due to the weather I changed to macro. I didnít find anything spectacular unfortunately.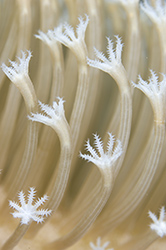 To satisfy the history buffs we visited the Mavis sea plane wreck on the final day of diving. Unfortunately it was very murky so you couldnít really see much. Julie and I took our macro lenses and took pictures of saw blade shrimp which we knew were there from our last trip here. Last time we saw them we found at least a dozen, but now after a long search we only located one of them. Itís interesting to see how the animal life here changes in such a short period of time.
On several occasions we had dolphins riding the bow. We hadnít seen that much before, but this trip almost every other day a group of dolphins would join us for a while jumping and crisscrossing around the front of the boat. On the last day we had a large group with us, who suddenly met up with another group consisting of mostly juveniles. It was an amazing spectacle seeing all these small dolphins play around with the adults. A sight to remember.
As always we enjoyed being on the Bilikiki and spending time underwater and with the managers Monty and Michelle. The weather could have been better on the second trip, and we could have seen a bit more macro life, but we've never been disappointed. We saw Manta Rays, mobula Rays, lots of small critter life, we got plenty of images we needed for some magazine articles, and lots of photos for art work purposes. We had a great time, and are heading back in 4 months for another month with Fathoms Magazine.
| | | |
| --- | --- | --- |
| The | | End |