Wakatobi August 2005

Julie and I are macro fanatics. We love to find and photograph the smallest of creatures. Wakatobi has a good name as a macro destination, and since Bali had long been on our list of places to visit we decided to give it a try and booked a double trip. We took a 12 hour flight from Amsterdam to Bali, Indonesia, where we were met at the gate by staff from Wakatobi even though we were 5 days early. They whisked us straight through immigration and customs and saw us off to our hotel.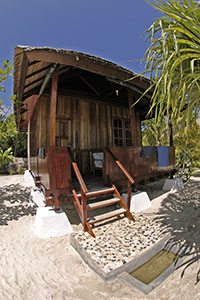 Lately Bali has had a bit of a bad reputation due to 2 recent bombings (one actually happened right after we left) and we decided to avoid the coastal tourist areas and head straight for Ubud, the cultural centre of Bali. We stayed at a lovely hotel called the Maya overlooking the rice paddies and the serene landscapes. During the day we toured around the area visiting the local artists, markets and sights. The Balinese people are mostly Hindus (the rest of Indonesia is predominantly Muslim) and are extremely friendly no matter where you go which makes for a lovely experience when touring around. Like most people visiting Ubud we couldn't resist buying some art, the nicest of which is an underwater reef scene. It can be a bit much though, as tourism has dropped and sometimes people get a bit pushy for your business.
After a few days of relaxing in this lovely area, we went back to the airport where the Wakatobi staff escorted us to Wakatobiís private plane that took us straight to our destination. Wakatobi is on an island located near the South-Sulawesi coast, and the flight took us about 2 hours. At the private airstrip (supposedly the only one in Indonesia) we were welcomed by the local dive staff and we took a small bus and boat ride to Wakatobi. We had a welcome speech, and then went to our bungalow to find our luggage already there. All bungalows (seen on the photo) have a private balcony, with a little foot bath and inside a shower, toilet, bed, desk, table, closet, and even an internet connection. It's definately a luxurious place.
We arrived a little late in the day due to an extreme low tide which caused the boats to be unable to enter the harbor. We had to walk a little over an exposed reef to get to the boats. As soon as we arrived and had put our stuff in the room we were asked to join the dive crew for a checkout dive. This dive is done right at the house reef in what's called Gully 2. The divemaster saw that we needed no help and we explored a little, finding some crabs, shrimp, and so on. The dive lasted only about 20 minutes due to the darkness setting in.
After a lovely dinner/buffet we went to find our camera gear which the staff had put inside the camera room. The camera room didnít disappoint either, itís very spacious, air-conditioned (I never had anything fog up), lots of power, dunk basins outside, and so on. The resort was definitely built with photographers in mind. We knew already that we were going to love this place.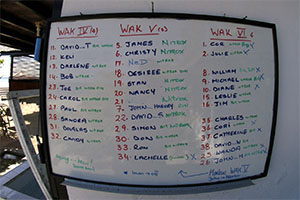 The diving is done with 3 boats. The resort holds about 40 people when full and the boats take about 10-20 people each depending on how full the resort is. At the beginning of the trip you're assigned to one of the boats, which is the only you'll be on for the whole trip. There is ample place for people to sit, for your dive gear to stand up, and has a large camera table that can easily hold a few dozen cameras. I especially liked some of the small details like little nets on the ceiling that hold your clothes. It's that level of detail that makes a place great. The boats leave from the resort and return there almost every dive, except for a few sites that are far away (far being about 45 minutes). Each boat has 3 divemasters that take about 6-8 people each, but once they realize you can take care of yourself they let you go wherever you want. They do 2 morning dives at 8 and 11, and then 1 afternoon dive at around 2.
After a little morning briefing at the resort we went for our first day of diving. The first dives we did at Fan Garden, Dunia Baru and Galaxy from the boat. After that we did a house reef dive at around 17:00. The house reef at Wakatobi is as nice as any other reef. Itís got plenty of macro (at least 2 species of pygmy seahorses, frogfish, ghost pipefish, shrimps, crabs, you name it), and nice wide angle reef scenes. You notice immediately that the house reef is in pristine condition, which is quite an accomplishment for a house reef, as they get a lot of traffic. Wakatobi is quite strict on any form of animal or reef abuse, and it pays off. (although part of it is a bit of a faÁade, as the divemasters will quite happily coax an animal out of a hiding spot, so the less self-sufficient guests can see it. It's a matter of balance, something Wakatobi has obviously found judging by the state of their reefs.).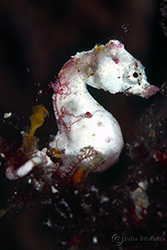 By now we had realized that you get more dives in by only doing the 2 morning boat dives, and then 2 house reef dives. The house reefs are amazing and we loved being able to go back there every day. Over the next few dives we followed this schedule, although sometimes we did only 1 really long, over 2 hours, house reef dive. The house reef consists of several areas, with sea grass in the shallows, some rubble areas, and nice reef walls; all three areas having their own appeal. The seagrass especially was a nice place to look for interesting critters. We found nice nudibranchs, ghost pipefish, sea snakes, mimic snake eels, Pegasus fish, and the list goes on. The rubble areas were nice for blennies, dragonets, octopusses, etc. The reefwall was so incredibly rich you can't begin to name everything thats there, from resident frogfish to pygmy seahorses to all kinds of shrimps, crabs, etc.
The second day of diving we saw our first ever white pygmy sea horse, also known as Hippocampus Colemani, at a site named Trail Blazer and on the next dive at Cornucopia we saw a second one. Quite amazing as they donít find them that often. That night we did a night dive at Dunia, which is really just an extension of the house reef.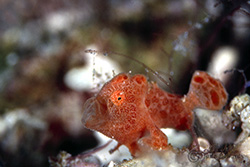 Over the next few days we did some nice variations in sites, Lorenzoís, Table Coral City, Blade, Batfish Wall, Pockets. At Pockets we saw another first, a baby frogfish. It was teeny tiny, the size of a fingernail, but even at that age, they do their signature yawn, as seen in this image by Julie. During our stay at Wakatobi we were able to locate a lot of interesting critters. Being able to find these kinds of small creatures inspired me to write an article about find macro subjects, which was later published in Underwater Photography Magazine, issue 27. Being able to find your own macro subjects make a trip like this much more rewarding as you're able to venture out onto the house reef for all the hidden treasures.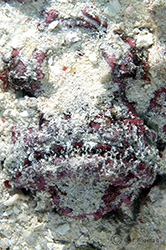 At a site called Starship the divemaster, by this time aware of our macro preferences, wanted to show us a xeno crab. It was Ďgoing to be deepí they warned. This turned out to be a bit of an understatement. The first few whips didnít have any, so they went progressively deeper until a whip at 48 meters (close to 160 feet) had one. I couldnít go there since I was diving with Nitrox, but Julie had air so she followed. It stands as her deepest dive ever, and it didn't seem like she had much of a narcoses effect as her images turned out quite nice.
Julie is a patient diver. On the next dive at The Zoo she found a jaw fish with eggs. She parked herself there the whole dive, but eventually didnít really get a good shot of it. You don't always hit the jackpot. I located a stone fish, half buried in the sand. We found several Stone fish during the trip, which says something about their abundance at Wakatobi. Following this dive were Pinkies and Waiti Teluk, where we had another first, a brown pygmy. Weíve now seen 4 species of pygmy sea horse at Wakatobi alone. The other 2, the denise and the bargibanti are quite abundant at Wakatobi, so much so that after a few days they become the norm. On the house reef alone we found 1 fan with 15 denises, which the we actually werenít supposed to find. The Wakatobi staff asked us not to tell anyone since theyíre afraid the closeness of such a nice subject will harm the sea horses as scores of people would try to take pictures of it. Since not every diver is as careful, they prefer to protect some of these animals from heavy traffic. By now, day 3, we had already seen several things we had never seen before, making this trip successful even before we got really underway.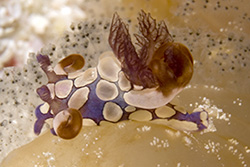 The Wakatobi staff is wonderful. With the odd exception, theyíre all extremely nice people. Since most of them were our age we bonded quite well, especially since we were doing our share of finding interesting critters. On one dive I found a nudibranch that we could not locate in any of the books and no one had ever seen it before. Since Wakatobi has an internet connection, we were able to email with some experts, and after a few days the answer came. It (unfortunately) wasnít an unknown species, but it was still unnamed, with only a few sightings so far. Everyone was excited nonetheless as it doesn't happen that often that guests find these types of rare creatures.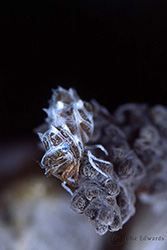 While waiting for the word on the nudibranch we found another critter that none of the guides had ever seen before. It was a small shrimp hiding on a soft coral, blending in extremely well (the photo on the right doesn't really show its level of camouflage as the strobe light brings out colors you don't see with the naked eye). This one also wasnít in any of the books, and weíre still not sure if itís a known species or not. One day near the end of the first trip Julie even had one of the guides dive during his time off because Julie found another nudibranch that they had never seen before, and they didnít believe us when we told them. Julie quickly located it again and the guide spend at least an hour taking photos of it. He liked nudibranchs and has an extensive collection of photos, and this one wasn't in it yet. It actually happened quite a few times that they didn't believe us at first when we told them we find something cool. At one point we found another frogfish (not one of the resident ones) and not until I showed them the images did they believe us. I guess they're not used to guests finding things on their own.
All this cool stuff really created a nice atmosphere, and the guides really warmed up to us. They would take us looking for brown and white pygmy sea horses (I actually located 1 white one), and would do their best to find us some nice photo subjects. And some of the guests were also trying to mingle with us. One especially was having a bad time because he was put on a boat with a large American family that didnít really socialize with him. When we took him for a house reef dive and found tons of cool stuff he came out of the water cheering. We like helping people out, and I often show critters to people underwater. What goes around comes around; I really donít like it when people desperately try to hide something from you, something that happens all too often.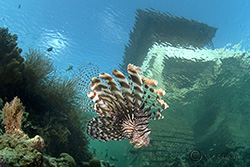 When the first trip ended, a new group of guests came in. We were ofcourse allowed to keep on diving during the transfer days, and we used that time to explore the house reef some more. I decided to take some wide angle images of the rubble area around the jetty, where you can find lots of anemones, lion fish, schools of juveniles, and other great wide angle possibilities.
When we got out of the water we met the new group. Getting to know this new group took a few days. Since the resort has so many divers, it takes a bit of time to actually meet everyone. The way the boats are assigned means that there's small groups of friends that often only socialise with the people on their own assigned boat, or worse, not at all. On the second trip there were 2 such groups, and even though we said the occasional "hi", the groups didn't really mingle much. Even the divemasters themselves usually keep to their own corner of the dinner area most of the time.
Describing the second trip is not really necessary. The trips are quite similar each time, and again we were able to see amazing stuff. We saw mating manderin fish, lots of colorful nudibranchs, soft coral crabs, crinoid shrimp, spanish dancers with shrimp, turtles, and everything else that can be expected from a top macro site.
We really enjoyed Wakatobi. Itís a macro heaven, and if youíre good at finding stuff you can find real treasures there. But even if youíre not, the guides constantly find nice critters so thereís always plenty of stuff to see and take photos of. The bungalows are very spacious, well designed, and comfortable, the restaurant is great, with nice food, the photo room is one of the best Iíve ever seen, and the staff is great. The only thing to keep in mind is that Wakatobi is a macro destination. You won't see many schools of fish, no sharks, no whales or dolphins. But if you love the small stuff, Wakatobi is the place to go. Weíll definitely be going back there.
| | | |
| --- | --- | --- |
| The | | End |