Wetpixel in the Solomon Islands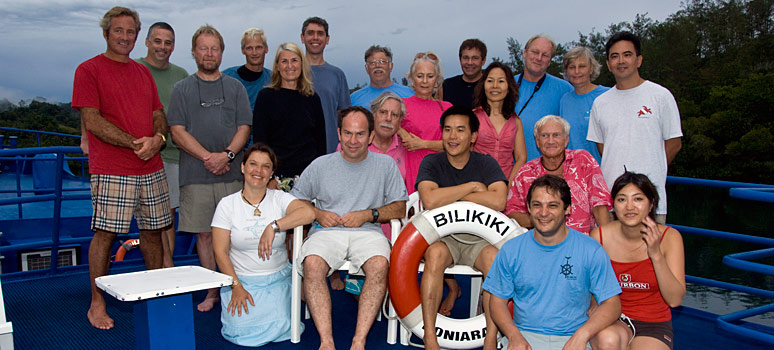 Julie and I were already in the Solomon Islands from our previous trip as the wetpixel group, led by Eric Cheng, started arriving. It was a great group, a good mix of advanced shooters and beginners. Everyone had a very smooth flight, and in the sweltering heat we all got ready to start a 14 day trip on the Bilikiki.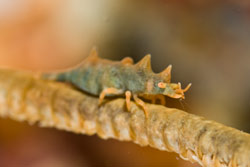 Day 1. The next morning we started the trip at Tanavula point. This is an easy divesite, where we had found a Halameda Ghost Pipefish on the previous trip. We tried to find it again but we didn't manage to spot it. Julie did find a really pretty horned shrimp on a small piece of whip coral that we hadn't seen before. Day 1, dive 1, and we've seen something we hadn't seen before. Some of the other guests have new equipment or new dive gear and they use this first dive to get themselves set up. By the second dive on this site everyone was ready to go and all the big guns came out. The divedeck is suddenly packed with large Seacam and Subal housings, with the odd point and shoot mixed in.
The rest of the first day we spend at Velvia Reef, a pinnacle that comes to about 30 feet of the surface. Some people saw a really friendly octopus hunting, while others found a mantis shrimp walking around. I found a false stonefish and several other small critters, but nothing spectacular.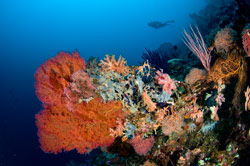 Day 2. On the second day we head over to the natural rock formations in the Russell islands. There are several dive sites that have either a cave or a cut where you can do real nice photography on a sunny day. Before we headed to the caves, which need a high enough sun, we went to Karamalun Point, a beautiful dive site that you can do both wide angle and macro at. I took my macro gear as I'm after some hermit crabs that I knew live in the coral heads here. Most people really liked this dive for wide angle photography, and requested we do it again the next day. Unfortunately the caves and cuts weren't really blazing as they sometimes do. I needed to bring my camera up to 800 iso, to get any light, which for my Nikon camera means a lot of noise. Even at that high ISO I didn't really get the effect I was looking for, so I gave up and explored the reefs outside the caves. Most people focused their attention on the caves, but these sites actually have very nice wide angle scenics right outside the entrance.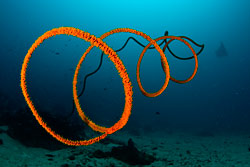 Day 3. By popular demand we visited Karamalun point again in the early morning. This time I took my wide angle dive like almost everyone else. The only one that did macro is Douglas Seifert who planned to wrestle with a Triton Trigger fish that he found yesterday. He made it back in one piece, and most people got some nice wide angle shots. Next up was Taikulum, which is known for housing a Mobula ray cleaning station. Unfortunately almost no one saw any, and I was the only one that got a "picture" of one, which happened to be an accident as I was just shooting a whip coral. Spot the ray in the image on the right. Next we did Batcave, which houses a colony of bats, and a macro dive at Leru cut where we spotted a leaf fish, some pygmies, and lots of other little critters.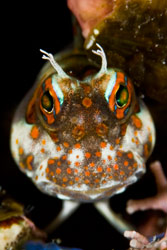 Day 4. We arrived at Mary Islands on the 4th day. This is a small island between the Russell Islands and Morovo Lagoon where there's just one dive site named Barracuda Point. As the name suggests you get large schools of Barracudas, both Chevrons and Needlenose, schools of Jacks, sharks, and sometimes even Manta rays. Last trip we had almost everything show up, but this trip it wasn't happening. The barracudas stayed just out of reach, teasing us with a glimpse once in a while, but never close enough to take picture.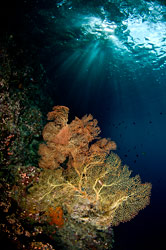 So we all clustered around the jacks, and Don, a professional Tiger Shark wrangler (aka: crazy), even took some bait down to see if he could entice the sharks to come closer, but they unfortunately didn't. Some of the images of the jacks turned out ok, but nothing earth shattering. In the late afternoon I went to the shallows and tried to spot some freckle faced blennies. They come out around 5 pm to feed and court so you get a chance to get some shots of them as they sit in their little holes checking out the world around them. Normally the area they live in is really surgy, but it wasn't too bad this time and I got some decent shots.
Day 5. Our first day in Morovo Lagoon we spent all day at Kokoana, a passage from the lagoon to the open ocean with a beautiful wall full of sea fans and soft corals on each side. Eric, Julie, Douglas and I headed out to the shallow section to get some images with trees in the background. The sun was filtering through the foliage overhead and created a really nice atmosphere. I was alternating macro and wide angle images throughout the rest of the day, going from scenics with fans to pygmy sea horses, soft coral crabs, porcelain crabs, shrimps, gobies, and lots of others.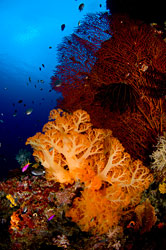 Day 6. We moved over to another passage, this one called Lumelehe. You can do several different dives there, from a wall dive, to a rubble slope dive, to a macro/critter dive. But before it was time to dive we visited our first village. In Morovo Lagoon the Bilikiki normally visits several carver villages where guests can see and/or buy beautiful carvings. Doug immediately bought a nice table, and several other guests got some nice carvings as well. The temperature was a little high, and because there was no wind most people were running a little hot. I went back to the boat early to cool down a bit.

The first dive most people took wide angle lenses and photographed the wall, which was really blossoming due to the slight current coming through the passage. I found some nice fan/soft coral combinations that turned out well. The second dive I changed to macro and found lots of cool critters. By the third dive the heat and a slight cold got to me and I went to have a little nap that lasted several hours, causing me to miss the next two dives. Eric did the same, and we both missed some mating cuttle fish, and eagle rays at a cleaning station. It was a good day all around for everyone though.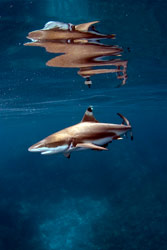 Day 7. Don must have gotten up this morning full of anticipation. We woke up at Karanjou, where we were going to try and bait some reef sharks to the boat. We had saved up some fish heads during the trip, and Don was aching to take them into the water. We first went exploring the reef itself though. Karanjou is a beautiful dive site with a nice macro area and some points with lots of wide angle areas. So some people put on their macro ports and went hunting for pygmies, while others went down deep (I went to 120+ feet) looking for pretty soft coral/fan combinations. During the first and second dive some people started to snorkle with the sharks, and slowly but surely the bait started to come out. The sharks weren't that cooperative though, but Julie still got some decent images.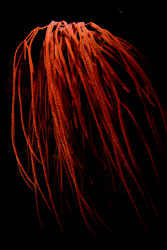 After another village visit we did the late afternoon dive at Mbili Shallows which didn't really perform as well as it had in the past. The nightdive at George's Nightspot was great though, especially because we found some nice unusual Phyllodesmium nudibranchs. When we showed them to Don he looked at us like we were crazy for showing some silly coral, until he realised that weird thing was alive.
Day 8. The cold has hit the boat full force now. About half the guests were sniffling, coughing, or worse. I was over the worst of it by then but I took it easy and only did two dives that day. Eric didn't dive at all that day. We dove the weathered side of some of the islands of the lagoon which have submerged points coming out. On the points you can usually find lots of schooling fish, sea fans and soft corals. We dove on Lagoon Point, Anemone Point which has some really beautiful golden colored soft corals, and Cave Point. I didn't really get any keepers that day, but I did have some fun trying out some new angle on coral whips. The idea is to get it to look like fireworks, but it needs more work.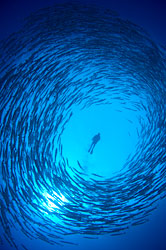 Day 9. Yesterday Eric, Monty, Julie and I had a short discussion about the planning for the rest of the trip. Several people mentioned that they liked Mary Island a lot, and since on our previous pass a few days ago we didn't get many schooling barracudas we decided to give it another go. So we left Morovo behind us and headed back to Mary Island during the night. That morning when I woke up one of the guests was feeling quite bad and had several physicians (we had 4 of them on this trip) looking at him. He had some air under his skin, but the doctors couldn't really tell with certainty what it was. Spooky stuff this far away from civilization. For now he was just going to stop diving and rest.

We had a relatively small group going out to the main attraction of Mary Island, Barracuda Point. Julie and I spotted a small group of barracudas and decided to follow them. They soon joined a massive school of friends and we saw the largest school we had ever seen here. Not only that, we saw mobula rays and silver tips whiz by as well. The most amazing part was when Julie and I looked down a vortex of Barracudas going into the deep, which then came up and started circling around us. I ducked down and Julie went up a bit and we shot the typical diver in the center shot. We drifted far away from the point though and had to kick back for 10 to 15 minutes to see the bottom again. Blue water diving rocks!

Later in the day most people switched to macro and photographed some freckleface blennies and anemone fish eggs. I tried the point again but I couldn't find the barracudas. Unfortunately one of the guests flooded their housing that afternoon. It was a catastrophic flood that killed both the camera and the lens. We had a little mourning ceremony and immediately started planning cool things you can do with a dead camera body! In the evening Julie and I showed two slideshows (Eric had shown his amazing Alaska images a few days earlier) with images from the trip we did with Eric to Komodo.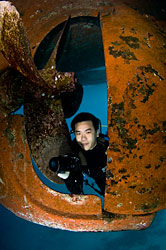 Day 10. We headed back to the Russell Islands overnight and arrived at Rainbow Reef. A pinnacle that comes to about 70 feet with lots of soft coral, fans and schooling fish. Unfortunately we had no current at all and the whole reef seemed to be asleep. I headed back up after 30 minutes because I couldn't find anything interesting to shoot, but several people found three beautiful purple stone fish sitting on the reef together. That must have been cool to see.

The rest of the day we had open dive deck at a site called White Beach. This is an old US Army supply base where after the war all the materials were pushed into the ocean. Douglas ran into a crocodile on the first dive here and took some great shots of it. When Eric and Michelle (one of the Bilikiki managers) went to look for it again they saw it too, but it didn't let them get close enough to photograph.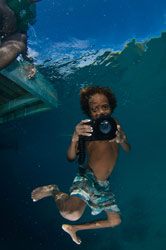 Day 11. Because Rainbow Reef didn't really do much yesterday we tried it again, hoping for more current. There was a bit more current but still not enough to bring the reef to its full splendor. We found the stonefish again though. But we quickly pulled anchor and headed to the Wreck of the Ann, which is an old boat that was sunk to provide a house-wreck for a resort. The resort was never built but the wreck still remains and forms a pretty artificial reef. Eric and I went down to take some images with the flooded Nikon D200 camera out of a housing (see image: eric at the prop with a flooded D200). Those cameras are really heavy underwater! We handed it to one of the kids and I was afraid they would drown with the camera in their hands.

Lots of macro stuff was found, from robust ghost pipefish to harlequin ghost pipefish, octopus, shrimps, crabs, the works. We had a really nice relaxing day of open deck diving, especially because a lot of really nice and inquisitive kids come play around the Bilikiki. Julie did some split shots with the kids, which everyone seemed to enjoy.
Day 12 This morning's dive was especially chosen for Doug. Doug has an intens hatred for coral gardens, and that just happened to be the site's name. The dive was a bit of a flop because the current was so strong you could barely keep your camera in your hand. I surfaced early. We now had to decide to go to Twin Tunnels, or to a small wreck. We decided on the wreck because this current would make the tunnels impossible. The wreck was unfortunately also a bust, we didn't find anything of interest on it, so we decided to switch to plan C and go back to Tanavula which we did on the first day, so some people could give the bargibanti pygmy seahorse another chance. After everyone had their pygmy fix we headed to our last dive site of the trip, Anuha, where we would stay for the rest of the day and the day after.

Anuha can be a really really nice site. It's actually three sites, two sand slopes and one beautiful reef. Since it was late in the afternoon we all went to the sand slope and most people came back finding lots of cool critters. Eric found a cardinal fish with eggs and had some awesome shots of it. Other people found some sea horses, and I found my first cuckatoo wasp fish. Anuha was performing really well. That evening Michelle & Monty and Douglas each did a slideshow.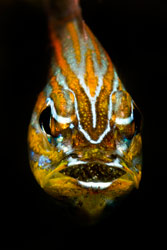 Day 13 The last day of diving. Most people can do two or three dives, and everyone is taking full advantage of their last underwater time. I spent most of my time with the cardinals because I've never shot cardinals with eggs. In the morning most people went to Anuha point, which had a bit of current that brought out all the soft corals. In the afternoon everyone visited the resident sea horses. In total five sea horses were found, together with two robust ghost pipefish and two cuckatoo wasp fish. Not bad for a little sandy mucky site.

Julie and I are doing another trip, but everyone else now started the lovely job of packing. Luckily the crew cleans out all your gear, which I think is an outstanding service. Eric was busy with a trip slideshow and impromptu contest he organized and didn't have time to do everything, so Julie, Michelle and I judged the contest and picked five amazing images out of a set of really nice images. It looked like everyone did very well. Congrats to Frank, Larry and Alexis!
Day 14 This is the day that most people prefer to forget. The morning of departure is always a bit of a chaos. But everyone got sorted out and got on their way home fine. This was a wonderful trip, with a really good group of people. We all helped eachother, had fun, mourned together for the flooded camera (and then partied with it), and had a good time all over.
| | | |
| --- | --- | --- |
| The | | End |
For more images see our gallery (coming soon)