Solomon Islands October 2006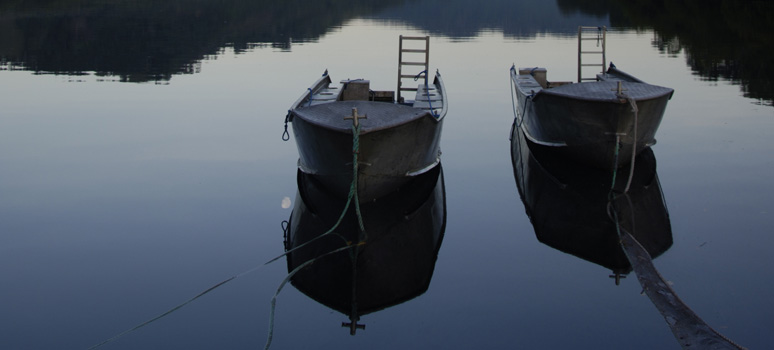 It's only been 4 months since our last visit to the Solomon Islands, but we can't get enough of it so we're back for another month. We joined Fathoms on two of their trips to the Bilikiki, run by Burt Jones. When we joined the Fathoms trips for some reason Julie and I expected a young macho crowd, but the first trip turned out to be a very nice mix of people. Some our age, some a bit older, but most of them experienced divers.
We started the trip in the Russell Islands at a site called Karomolun. As always Julie and I used the first dive to get our gear in order. We had both bought a new BCD, so we needed that first dive to get used to it and get our buoyancy correct. That didn't take long, so off we went to explore the site. Within 5 minutes we saw something we'd never seen before underwater, a Marlin. It was slowly swimming by our group of divers, seemingly interested in what we were doing there. We hoped it was a sign of things to come.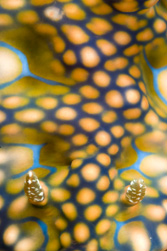 The second and third dive of the day we did on two sites we'd never done before in our many trips here named Leru Bommies and Bat Cave. The Cave actually holds a colony of bats that you can see as you surface inside the cave. It's quite cool to watch, as long as you avoid the bat guano. Outside the cave Michelle, one of the managers, found a nudibranch we'd never seen before named Ceratosona sinuata that Julie made this nice abstract of. The trip was of to a flying start.
The fourth dive of the day was at Mirror Pond where I decided that I really did not like my new BCD. For some reason it kept pushing into my ribs causing a bruise. Luckily Monty had a similar size BCD I could borrow, which turned out to be perfect. I ended up buying it from him. The Bilikiki must be the world's best equipped liveaboard. I also played with some buoyancy arms on this dive and liked them a lot. They are specially made by someone we met on a previous charter. They are lighter than our ultralight arms, and make our D2X housings perfectly neutral, even when using short arms. We ended up buying those too when we were back home.
The next day we dove Rainbow Reef, followed by Wreck of the Ann and Whitebeach. The Wreck of the Ann is a pretty large wreck covered in growth, while Whitebeach is more of a mucky dive around remains of a US war base. It's interesting to see how some of these sites change over time, even in as short a period as a year. Soft corals that were there a year ago are gone, but now there's suddenly fans or soft corals in different places. All in all the sites aren't as affected by mankind's destructive streak as you see in other places around the world.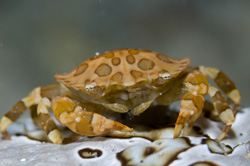 The third day we dove Mary's island, the halfway point towards Morovo Lagoon. Just like our last trip we saw huge Manta rays. One ray came back several times giving us all a good look. Unfortunately we had macro lenses on, but it was amazing nonetheless. Both Mary's Island and our next day's destination, Wickham Island are 'open deck' sites. You can dive as often as you want, at any time, or you can just follow the standard guided dive times. Wickham is one of our favorite dive sites in the world. It combines muck diving and wide angle reef scenes in a very small area. The walls are covered in beautiful soft corals, and just a short kick away you can search for all the usual muck critters. I found a pair of ghost pipefish, lots of shrimps and crabs, and plenty of other small critters.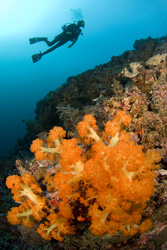 The next day we dove some passages around Morovo lagoon called Anemone point and Cave point. The latter is especially nice for wide angle with lots of fans, whips and soft corals. Last trip we saw some hammerheads here but unfortunately they didn't show this time. In the days after we did some more of these passages like Lagoon Point and Totalave. These passages are the entry ways to the inner lagoon. The tides in these passages can really rip, but that also means the soft corals are wide open creating beautiful scenes. It also means you have a chance of larger pelagics like sharks, rays and lots of fish. The walls around these passages are usually very nice macro dives as well, making the choice between macro and wide angle a difficult one.
One of the nicest days was the 6th day when we did three dives at Karanjou island. All three dives we saw mobula rays coming into a cleaning station doing their signature swooping moves around the divers. At the other extreme we found at least 15 pygmy seahorses on the fans, causing some people to totally miss the mantas while trying to see the pygmys. Again Julie and I were carrying macro lenses, but the sight alone was enough to remember.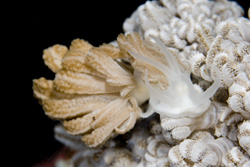 Next we were back to a day of passages at Lumalihe and Kokoana. These are some of our favorite dives with leaf fish, pygmy seahorses, shrimps, crabs, you name it. This time we also found a beautiful harlequin ghost pipefish. That night we did one of our favorite night dives, George's Nightspot which again did not disappoint as Julie and I spotted a beautiful Phyllodesmium nudibranch that we couldn't identify. This nudibranch looks exactly like the octocoral it lives on. It was the first time the managers had ever seen this nudibranch, so they were quite excited as well.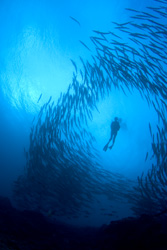 Half the trip had passed, so we were on our way back to the Russell Islands. On the way we decided to spend another day at Mary's Island. This time the barracudas were out in the thousands doing their swirling and schooling. Amidst all the action Manta's came flying by. It was most people's favorite day of diving so far. I got a nice shot of a diver surrounded by barracudas.
Back in the Russell Islands we dived NE Mane, which was my personal favorite dive site of this trip. The sun was shining and the shallow hard coral gardens were just beautiful. I spent most of the dive just floating near the surface, as the sun was lighting all the hard corals around me. Next we dived Leru Cut and Custom Cave, two underwater rock formations that are signature dives for the Solomon Islands. During my dive at Custom Cave I found a really pretty decorated soft coral crab.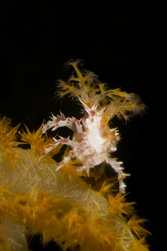 For the last two days of the trip we went to the Florida Islands. We started the first day at Tanavula West and Tanavula Point, two points that are really good for wide angle. We saw some Mobula Rays, sharks, and lots of fans and soft coral. We ended the day at Velvia, one of our favorite macro sites, named after the amount of Velvia film thats been shot there. On the last day we did Twin Tunnels which are two lava tunnels you can dive through. We didn't enter the tunnels ourselves as we'd done it before, but if you've never done this before it's quite cool.
On the last day we dived a plane wreck called the Mavis. This is a huge flying boat that is unfortunately quite deep at over 80 feet. But it's well worth the effort as the plane is covered in growth and critters. From past experience I know to shoot macro as usually this site doesn't provide good visibility for wide-angle. We ended the day with the sites Makai and Tulagi Switzer. The latter is a must-do nightdive.
Because of the very early 7am flight, most people couldn't do any diving on the last day of the trip. Julie and I did 1 dive, but I didn't take my camera. I felt like a break in between the two trips. It's quite nice to have this much free time to spend on writing, sorting images, and just relaxing on the sundeck. Unfortunately the next morning was brutal for most people, as they had to get up at 3 am to make the 7 am flight. Julie and I slept in, as we were staying for a second trip.
That day we just relaxed a bit, read a book, and helped Michelle with some shopping in town. The Bilikiki often does same-day turnarounds, which is quite hard on the crew. Around 5pm the new guests arrived. This group was a bit older than the previous group but they turned out to be just as nice a group as the previous one.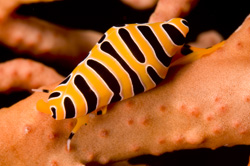 The beginning of the second trip was very similar to the previous trip. We started at Karamolun again for the checkout dive, but it wasn't really necessary, everyone turned out to be an experienced diver. We found a fan with four really pretty Tiger Cowries, which are quite rare to find. We also found a shrimp we'd never seen before. It blended in perfectly with the sponge it lives on. This dive was followed by Leru Bommies and Bat Cave.
The next two days we dove Rainbow Reef, the Wreck of the Ann and Whitebeach and a full day at Mary Island again. Unlike the previous trip, the schooling fish at Mary Island weren't active. There was no current so nothing was happening. No schools of barracudas, Jacks, or sharks. So on we went to look for some better action in Morovo Lagoon.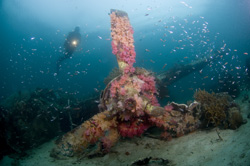 Anemone Point turned out to be awesome this time around. There were fish everywhere. Some people even saw a hammerhead shark. This point is especially known for its golden colored soft corals which are everywhere here.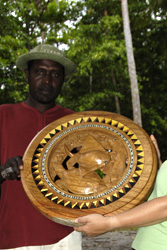 The following day, October 17th, we headed to two plane wrecks at Seghe airport. One is a small plane that's upside down and still has a huge bomb or torpedo on it. This plane is great for the typical plane rotor blade image. However, photographically, I think the second plane is much nicer. It's a double hull huge P38 that is fully intact, sits upright, and has a lot of growth on it. It's also quite shallow at 30 feet, which makes it ideal for wide angle photography. Burt and I helped eachother getting some shots with a diver in it.
Every trip on the Bilikiki you visit a few villages to look at the carvings they make. Over the years Julie and I have accumulated a lot of small works of art, so this time we pledged not to buy any more unless we saw something different and useful. One thing we've been looking for is a small table and we happened to see one we really liked. After the customary bartering where Julie traded in her Swatch watch, we bought a really nice hand made table with beautiful inlay.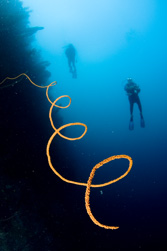 After this we went back to the lagoon inlet channels. This time we dived Kokoana, where I found a really pretty wire coral with several loops. We then did one we had never done before called 'The Passage'. It's a new site that they only started diving a few trips before. During that first trip they found 2 harlequin ghost pipefish and 3 robust ghost pipefish. We didn't find as many but we did find a beautiful juvenile harlequin ghost pipefish. The night dive that evening was at George's nightspot, where we'd seen a rare nudibranch the trip before. We went to look for it again and after an hour of searching we found it. I also managed to get some relatively good images of basket star shrimp which are very difficult to photograph.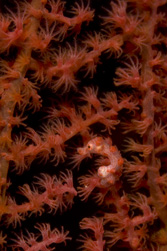 The next day I took it a bit easy and did only 3 shorter dives. Diving Mbili shallows I found some pygmy seahorses again that Michelle showed me last trip. This was followed by Lagoon Point and Twin Points, a site we'd also never been to before. It was quite hard to imagine, but even after so many trips here they manage to find new dive sites. At night we visited George's Nightspot again because the weather was quite bad and we needed a quiet place to dive, and it gave us the chance to show some people the nudibranch we'd found previously.
That marked the end of Morovo Lagoon, so we headed back to Marys on our way to the Russell Islands. This time the currents were a little better than last time, so we saw quite a few barracudas and jacks, but all in all the site didn't excel as much as it can. We did see a huge Manta Ray, which was a nice present. The next night's crossing to the Russell Islands was quite rough, and several people got sick. It's not common for it to be so rough but apparently there was a low pressure system near Vanuatu that was causing our rain and wind. Everyone took it in stride and joked about it.
In the Russell Islands we did some natural rock formations at Leru Cut, Custom Cave and Mirror Pond. Michelle found another really cool nudibranch there, which seems to be the same species as the one Julie found at George's Nightspot.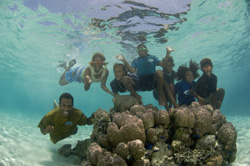 From the Russells we headed to the Florida Islands for the last two days of diving. We started at Anuha, which is really three dive sites in one. We stern tied and spent the whole day there. In the afternoon we were visited by kids who loved to pose in front of the camera. It made for some really funny shots and lots of laughter. The point at Anuha was especially pretty, with just the right amount of current to open up all the soft corals. It was the prettiest I'd ever seen this site.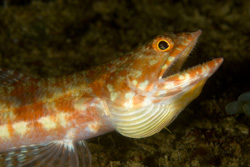 Our last day we started the dive at Tanavula West. This is normally an awesome wide angle dive, but unfortunately the current had died down so the soft corals weren't open. So on to the next site at the Mavis, the flying boat we'd done the previous trip as well. Here again the site wasn't as nice as it could be because the visibility was very low. We helped some people find the saw blade shrimp we'd found here the previous year, and I spent most of my time watching two lizard fish being cleaned. I'd never seen that before, so that made the dive special afterall.
We ended the trip with three dives at Velvia, which is a fitting end to such a amazing trip. Normally the end is a sad time, but after logging about 100 dives on these two trips I was close to being waterlogged. We were ready to go back home, after spending 4 amazing weeks onboard the Bilikiki. We met some really nice people, not in the least Burt Jones, whom I think we will be meeting again in the future. We also always love spending time with Monty and Michelle, who have become friends over the years. We have our next trip here planned already, and we can't wait to head back and meet the wonderful crew and dive the amazing sites of the Solomon Islands.
| | | |
| --- | --- | --- |
| The | | End |