Solomon Islands April 2004

The Solomon Islands are a group of almost a 1000 islands in the South Pacific. The main island is Quadalcanal, known for its fierce sea and landbattles in World War II. The capital is Honiara, where the international airport is. The Solomon Islands were world news around the turn of the century when the country experienced some internal trouble. The Australian army ended all hostilities and are still present on the islands. When we were there it seemed nothing had happened. We found some of the friendliest people we have ever met.
We flew into Honiara from Brisbane with Solomon Airlines. When flying Solomon Airlines, you can be sure of one thing, as an underwater photographer be prepared to pay for excess luggage. We were allowed a mere 20kg a person. Here it comes in handy being with a group and Herb argued with them until they had enough and reduced our charges significantly.
In Honiara we were met by the Bilikiki staff. In no time the bags of 19 people were put on a bus and we were on our way to the ship. The ship may not look as nice on the outside as some of the modern liveaboards, but the inside is very nice and perfectly set up for diving. The cabins are fine, at least for a couple. I don't know how it feels when you are 2 individuals. I didn't hear any complaints. They keep you busy enough that you really don't spend much time there. The back is fully set up for diving. They have 2 little skiffs that they use to ferry divers to the dive sites, often not more than a few hundred feet away. The crew takes care of everything, and I mean everything. And they do it well. After the first day they know your dive gear and camera equipment and make sure you and your gear are always together. I was never afraid of my camera gear damaging.
The first dives were at the Florida Islands. We were anxious to get into the water. The stories of fellow passengers who had been here before were promising. As we entered the water there was a slight current. Usually currents don't bother us much, so on we went. The slight current quickly turned into a ripping maelstrom. As we were ducking in and out of little hideaways in the reef we saw other divers whizzing by, unable to stop themselves. We were still trying to take some pictures, but we soon had to give up. Finally we just let the current take us, and we slowly ascended. We were the last ones out, most people had given up long before us. The ship's managers, Monty and Michelle, felt really bad. Currents can come and go in a flash, and this was a bad start to this trip. I thought it was kinda fun :)
The first night dive was also interesting. Because of the current only 4 people opted to go, including Julia and myself. All 4 of us went down together, but as we reached the reef at about 50 feet one of the other 2 divers came to us saying she had lost her buddy. We looked around for about a minute and then decided to ascend. This wasn't the place or time to be alone. As we came up the skiffs had been tracking the other diver. He was happily taking photos on a reef several hundred feet from us. The skiffs brought us there and we continued the dive.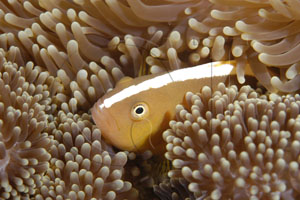 The second night was a bit rough. We were crossing over to another island group, the Russell Islands. I had to take some motion sickness pills. Luckily that was the only time I felt I needed them. After the crossing we arrived at a site called Whitebeach. We were spoiled having dived Sipadan a few days before this trip so we wondered if this would measure up. Well, it did. On the first two dives that day we saw 5 different species of clownfish, hairy squat lobsters, bubble coral shrimp, lots of nudibranchs, crododile fish, giant clams, a great wreck, etc. And thats just what we photographed. There was so much stuff, it was overwhelming.
I really liked the diveschedule on the Bilikiki. Diving starts at 8, then at 11, 2, 5 and if you want a nightdive at 8. Most days we did at least 4 dives, with night dives about every other night. There's plenty of time and space to swap memory cards, film, batteries, ports, lenses, whatever you need to do, between dives. I never felt rushed.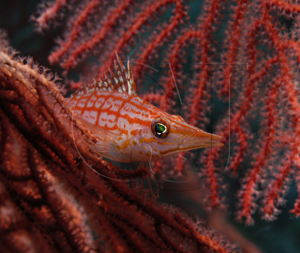 The divers in our group were about 50/50 between film and digital, and I quickly befriended 2 other people that were using D100s. As I seemed to be a bit more experienced than them, I was able to pass along my own tips and tricks, something I enjoyed. After a while we were even doing photo tests between Subal ports setup (the wellknown 12-24mm debate) and I concluded my own port setup wasn't the best even though Subal recommended it. When I contacted them after the trip they agreed they had changed their opinion (use a DP-FE2, 50mm extension ring, NO diopter).
Where Michelle was excelling at finding critters, Monty was doing an excellent job developing film and helping out everyone with their problems (he couldn't dive because of some ear trouble). On the second day my dive computer, a Suunto Cobra, which had been giving me some trouble in Sipadan, started to seriously leak air, and suddenly crashed underwater. I thought it had flooded, and asked Monty to take a look at it. As we took it apart it became apparent it hadn't flooded, but one of the internal O rings was definately not 100%. He fixed it as best as he could, and that turned out to be enough. After taking the battery out and reinserting it worked again, for the rest of the trip. It definately helps taking your own spares with you. Julia's finstraps broke off, twice, but luckily we had 2 spares.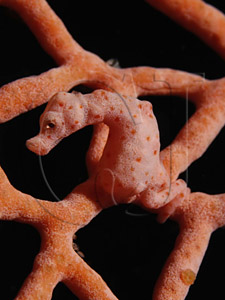 This trip was a first for us in many ways. Most of our diving had been in the Caribbean. We had never been to the South Pacific. We had never seen anemone fish before, ghost pipefish, longnose hawkfish, immense schools of jacks and barracuda or many other forms of life that the South Pacific harbors. Our most memorable encounter happened on the fourth day. Julia and I both are macro fanatics (btw, if you like macro and dive in that area, get the book 'a diver's guide to underwater Malaysia, Macrolife'. It's great!). Where most divers look for big stuff, we tend to spend our time looking for things you can barely see. We got just that on the fourth day. During the dive briefing Michelle said we might see Pygmy Seahorses. With that she meant, 'I might be able to find them for you' :) Well, she came through. Not everyone was able to actually see them, even with Michelle pointing them out. But as a macro lover all I needed was that one point and there it was. Wow. They are truly small. As I moved in to take a photo I was having trouble locating it in my 60mm lens. Luckily Cathy had just the trick. She used a pencil and I could follow the pencil to the tip where the Pygmy Seahorse was.
Two days later we had the pleasure of another encounter with these small animals. This time Cathy and I went looking to see if we could find more. In no time Cathy had spotted 5 more on a neighboring seafan, and I was able to spot one of my own. That was even more fun than taking photos of them. Later Michelle told us we weren't supposed to find those. She leads divers to different ones each time, to give the Pygmys some peace and quiet. Something I could definately respect.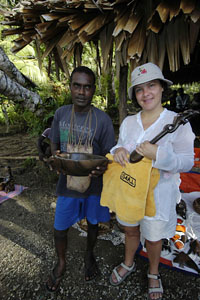 An integral part of diving on the Bilikiki are encounters with local villagers. They come to the ship selling fruits and vegetables. You can't get much fresher food than what you get on the ship. The food is wonderful and abundant, maybe a little bit too abundant :) Besides villagers coming to the ship, you also visit the villages themselves. These are actually part of the understanding between the locals and the Bilikiki. We are allowed to dive on their reefs, if we come and visit their villages. This is actually great, as the Solomon islanders are amazing carvers. In the villages you can buy handmade carvings from simple chopsticks (we bought 8), to more intricate bowls (we bought 2), to immensely delicate tables (we didn't buy any :).
This is especially interesting as you are supposed to negotiate with the villagers about the price. Something most westerners are not used to. There is a ritual where they will tell you their first price, then you seem shocked, and ask if there is a second price. Then they hesitate and tell you a second price. Finally, after a lot of thinking you see if there might be a third price. Often they don't immediately say yes, but ask if you have anything to trade. This way we traded a very nice fruit bowl for 2 of my company towels and some Solomon dollars (which is actually very little money in US dollars or Euros). Others traded batteries, t-shirts, whatever the villagers needed.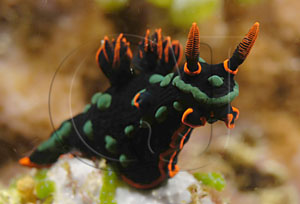 Even though the village visits are nice, you can't wait to come back to the ship and dive. Every day you see new things underwater. Julia was especially enthralled about the abundance of nudibranchs, one of her favorites. Every dive she'd come back with stories about how many she saw and it wasn't long before she was asked to show them to others as they weren't able to find them. She has one roll of film where she has photos of 6 different species of nudibranchs. Her enthousiasm got me too, and I started to take more and more photos of them.
I was especially interested in the Nembrotha Kubaryana. They have this way of lifting themselves up into the air and staying like that for a while. It definately makes for an interesting shot. I guess Michelle and Monty thought the same as they have an almost identical picture hanging on the wall of the Bilikiki.
There were only a few dives that were truly wideangle dives. One was called Barracuda point. Here massive schools of Barracuda and Jacks congregate. They school into every shape imaginable. From long and thin, to massive balls, to long vertical tunnels resembling a tornado. Sometimes they start circling in a spiral shape leaving an opening in the middle and if you position yourself underneath them you can get a really nice photo where the sun shines right through the opening. I wasn't able to get this shot, and neither were most others. It's one of those things that just happens or not happens. That night when the film was developed and reviewed it turned out Julia had actually gotten one of the few shots of spiraling barracudas with a sun ball.
I also found out she had another first encounter. One I unfortunately missed. The massive schools of fish attract larger predators. So you see quite a few sharks there too. I had seen several white and blacktips. Julia saw a Hammerhead and a large one at that. For some of you this is probably not so special, but when it's your first it sure is.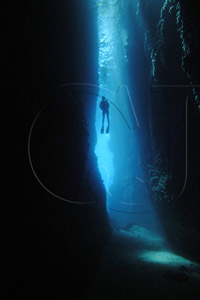 Two other wide angle dives are Custom Cave and Leru Cut. They are both caves with openings in the top. The openings let sunlight in, and when the sun is just right and bright enough, the sunbeams shine all the way to the bottom of the cave, creating a beautiful magical scene. Before we went in, Cathy told us a story about Custom Cave. On one of her previous visits the crew had told everyone to stay out of the cave. Cathy had missed that and entered the cave anyways. Here she came face to face with a salt water crododile. I'm sure some people felt a little nervous entering the cave after that :)
Luckily that day the sun decided to cooperate and we got a beautiful view of the sunbeams through the top of the cave. Michelle posed for us to show off the size of the cave.
To get a good shot in this cave Cathy had told everyone to use the largest aperture possible and bracket the shutter speed. With a high enough shutter speed you actually capture the beams. When we came back to the ship and people had their film developed it turned out almost everyone's film was underexposed. Even though we got a beautiful visual spectacle, the sun wasn't bright enough for most film cameras. This despite the fact some people had used higher speeds of film.
Here is where digital turned out to be helpful. After my first shot at f4 1/60 I noticed the picture was almost black. As a digital SLR photographer I am able to change my ISO setting underwater and the picture you see here was taken at ISO 1600, 14mm, 1/125, f4.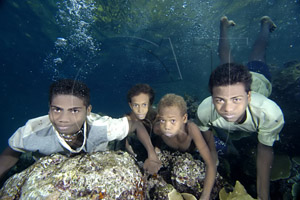 On one of the last days we visited a village and Michelle asked some local boys to pose for us. This turned out to be great fun. The boys were eager to do as Michelle asked. One of them wasn't as good as holding his breath as the other were, so every try was a race against the clock to get a decent picture.
Cathy, the perfectionist that she is, tried getting them to do a little bit more difficult things. It was fun to watch Michelle trying to translate her wishes and the boys doing their interpretation of it. I never knew if she got her shot :)
Julie actually got the best picture of all. The 15mm Nikonos lens is just the best underwater wideangle lens in existence, imho. Because we haven't gotten around to scanning her slides yet, one of mine will have to do.
The last day we visited another village. They performed local dances and we were expected to join in. After that they gave us a tour of the village, showing off their school, farming, houses and answering any questions we had. The Solomon islanders are very friendly and open people. They were as interested in us as we were in them. Later that day as we headed back towards Honiara we did a sunset 'cruise' around the Florida Islands. Several of the villages emptied out, following the ship in their canoes. The kids were mostly interested in the small plastic bags of popcorn we were handing out. It's amazing how different we are, but still really very much the same.
We had an amazing time in the Solomon Islands. We hadn't been back a week and we were already plotting on how to go back there. Everything, from the easygoing crew, to the perfect dive schedule, to the layout of the ship, to the company we had, combined to make it an unforgettable trip. Monty and Michelle, if you ever read this, expect to see us again.
Cor & Julia