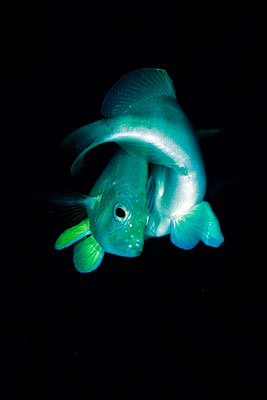 In the last few years, images of mating Hamlets have turned up in several publications. Julie and I love watching natural behavior, but we've never really taken the time to go out and photograph Hamlets. St Croix is actually a very good place to do this, as there are different species of Hamlets here, and lots of them. So we finally went out last night to see what all the hubhub is about.
We didn't really know what to expect. We've photographed mating behavior of other species before, and some species, like for instances Dragonets can be really difficult to approach. So we were ready to stalk our prey and stop breathing. None of this turned out to be necessary. The Hamlets were completely oblivious to our presence and at times would actually swim within two feet of us by themselves. Their mating session lasted for about 30 minutes, during which they went up into the water column about a dozen times to mate. It was quite interesting to watch.
So here it is, my very first image, shot when they went up the first time.